Partners from various projects for farmers in the Southern Africa Development Community (SADC) met in Gaborone, Botswana, during 10-12 August 2011 to review progress and discuss future directions. Interactions involved members of the New Maize Seed Initiative for Southern Africa (NSIMA), the Drought Tolerant Maize for Africa (DTMA) and the Insect Resistant Maize for Africa (IRMA) projects, as well as representatives from SADC, CIMMYT, the Alliance for a Green Revolution in Africa (AGRA), the Swiss Agency for Development and Cooperation (SDC), and local seed producers.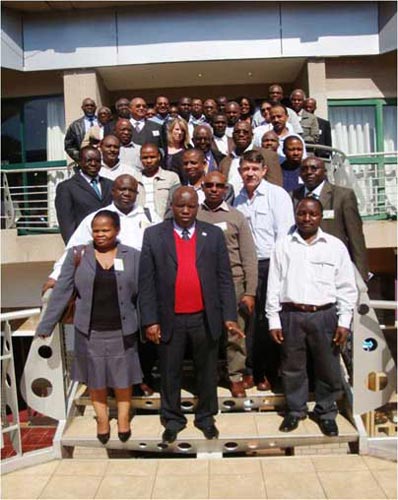 Edison Wotho, Deputy Permanent Secretary, Ministry of Agriculture, Botswana, praised Botswana's participation in NSIMA, whose products for that country's farmers include a new drought tolerant maize hybrid (CZH0623) and three OPVs (ZM309, ZM401 and ZM523). "The projects come at the right time," said Wotho. "The region is experiencing frequent droughts and food shortages."
Simon Mwale, SADC headquarters, Gaborone, highlighted the progress of his organization, CIMMYT, and other partners to harmonize the seed regulations and ease restrictions on the release and cross-border movement of seed in the region. He said a SADC Seed Centre would be established in Lusaka, Zambia, to help implement harmonized seed regulations (a MoU is expected to be signed soon by SADC countries). George Bigirwa, Senior Program Officer, AGRA and Programme for Africa's Seed Systems (PASS), described how to establish a successful seed business in Africa. Presenting outcomes of a recently conducted review of NSIMA in preparation for a phase III, SDC consultant David Karite mentioned that 7 new OPVs and 13 hybrids had been registered in SADC during 2008-10.
During a visit to Botswana's Seed Multiplication Unit, participants discovered that the Unit produces about 3,000 tons yearly of Kgalagadi Early Pearly, the only registered OPV sold at a subsidized price by the government. It is looking forward to multiplying seed of drought tolerant maize varieties from the various projects. As part of NSIMA, breeder's seed is also being multiplied to scale up seed production for the new varieties.
At a cocktail party sponsored by Seed Co-Botswana, Mulugetta Mekuria, CIMMYT Regional Liaison Officer for Southern Africa, gave an overview of the center's activities in the region and commitments in support of the SADC objectives to enhance food security. He said CIMMYT was very pleased to partner with the new Center for the Coordination of Agricultural Research and Development in Southern Africa (Southern Africa-CCARDESA). Mekuria and CIMMYT Maize Breeder Peter Setimela also visited the Botswana Department of Agricultural Research to introduce the "Sustainable Intensification of Maize- Legume Cropping Systems for Food Security in Eastern and Southern Africa program" (SIMLESA), following up on a 2010 visit by the President of Botswana to the Australian Centre for International Agricultural Research (ACIAR) to involve Botswanan scientists in the project.