Since 1999, the CIMMYT-led Hill Maize Research Project (HMRP) has been analyzing the maize seed value chain, increasing market assurance for seed from community-based seed production (CBSP) projects, and enhancing management and marketing competencies of stakeholders. The project covers 20 hill districts across Nepal and is funded by SDC and USAID-Nepal. Now in its fourth phase, the overall goal remains improving the food security and income of farm households, particularly of the poor and disadvantaged.
Seed marketing is a major component of this goal, and HMRP Phase IV aims to improve this by enabling seed producers to get sustainable, best possible returns through reliable, on time market information and pre-sowing contracts; encouraging farmers to sell a maximum quantity of seed by providing seed revolving funds to CBSP groups; increasing market efficiency to reduce the price gap between seed producers and buyers; making seed of farm origin available at a reasonable price by ensuring quality through accurate labeling; and enabling seed businesses to become sustainable enterprises.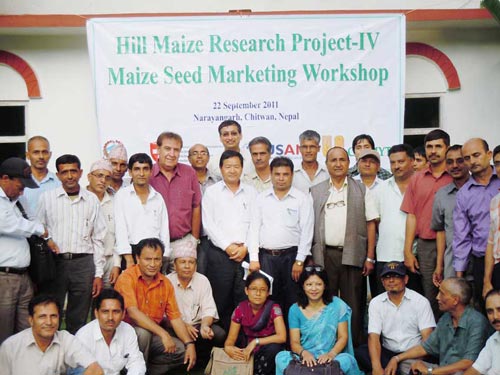 On 25 August 2011, HMRP held a "Maize Seed Marketing Workshop" in Nepalgunj, Banke, to facilitate the marketing of maize seed and help establish links between CBSP groups, partners, and seed traders, to improve efficiency and sustainability. The 66 participants represented both seed suppliers and buyers or traders. Lila Ram Poudel, Deputy Director General, Department of Agriculture, Nepal, chaired the workshop, with training assistance from D. Bhandari, Chief of the Seed Quality Control Center, Ministry of Agriculture and Cooperatives, Suroj Pokharel, Program Director, Crop Development Directorate, Durga Adhikari, General Secretary, Seed Entrepreneurs Association of Nepal, and Ram Chandra Bhusal, Seed Value Chain and Marketing Specialist, Center for Environmental and Agricultural Policy Research, Extension, and Development.
Guillermo Ortiz-Ferrara, HMRP Leader, introduced the workshop, with subsequent technical sessions focusing on HMRP's approaches to seed production and marketing, with particular reference to government seed programs, and sustainable strategies for maize seed marketing with a value chain approach. Participants were also able to share their own experiences of seed trading in open discussions.
The workshop resulted in several recommendations: that local Agrovets participate in seed trading with CBSPs, ideally distributing seed in cooperation with the Seed Entrepreneurs' Association of Nepal and the District Agriculture Development Office (DADO); allocation of Village Development Committee block grants to enable the purchase of seed from CBSPs, with other social groups also encouraged to purchase the improved seed; DADOs to increase informal research and development kits and improve seed coverage in remote areas, to facilitate access to improved seed for poor farmers; and the investment of a proportion of the government's seed subsidy to purchase seed from CBSP groups, rather than importing.
A second workshop was conducted on 22 September 2011 for 69 public and private stakeholders from the mid-western and eastern hills of Nepal. Chaired by Dil Bahadur Gurung, National Maize Coordinator of Nepal, this workshop also encompassed problem identification and recommendations for efficient and sustainable maize marketing (Group 1), and the recommendation of guidelines for seed revolving funds (Group 2).
Group 1 recommended that seed availability information be disseminated via local radio and newspapers; seed should be produced under the pocket area concept; DADO should enforce a code of conduct, with mandatory seed packaging and labeling; a seed bank should be established at the district level, with infrastructure support; and seed revolving funds and transportation subsidies should be provided to seed producers. Group 2 added that these seed revolving funds should be monitored, with training given for management of the funds.