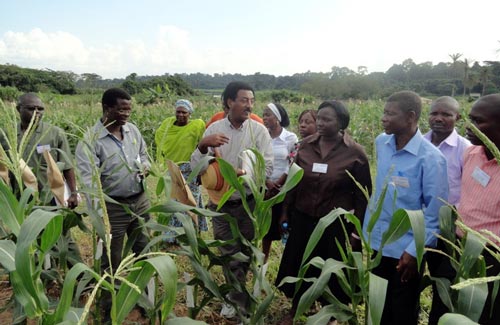 During 27 August – 1 September 2012, the
Drought Tolerant Maize in Africa
(DTMA) project held a training course on management of field trials and nurseries and seed production of open pollinated and hybrid maize varieties. The course took place at the
International Institute of Tropical Agriculture
(IITA) in Ibadan, Nigeria, and was attended by 30 participants from Ghana and Nigeria, including CIMMYT scientists Peter Setimela and John MacRobert. The resource persons were drawn from Nigerian universities, the National Agriculture Research System, IITA, and CIMMYT.
The training session was opened by Nteranya Sanginga, IITA director general, who commended the collaboration between IITA and CIMMYT in implementing DTMA and working towards its vision of producing more than 70,000 tons of drought tolerant maize seed. Sanginga also spoke of the importance of training to empower maize technicians from the national maize programs and seed companies to manage field trials and produce quality seed needed by smallholder farmers in Ghana and Nigeria.
The training course emphasized the importance of good trial management, advanced experimental designs, management of maize nurseries and variety trials, and key aspects of seed production. Training included practical field sessions during which participants applied appropriate experimental designs for various fields and learnt how to lay out a field trial. They also tried various pollinating techniques used in maize breeding and variety maintenance.