By Florence Sipalla/CIMMYT
Ten members of the technical staff from the Improved Maize for African Soils (IMAS) project joined their counterparts from the Water Efficient Maize for Africa (WEMA) project for training in managing risks during confined field trials (CFTs) —both projects funded by the Bill & Melinda Gates Foundation. Participants learned how to minimize the risk of disseminating materials under analysis into feed and food pathways. Emphasis was placed on spatial and temporal separation of the flowering parts of plants, to ensure they do not move outside the CFT. Incinerating all materials after the collection of trial results was also emphasized. IMAS staff participated in the course to help them prepare for the mock trials that will be carried out later this year at IMAS CFTs in Kiboko and Kitale, Kenya.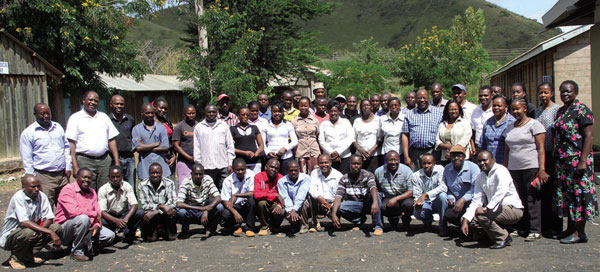 The training served as a refresher course in the standard operating procedures and protocols outlined by the National Biosafety Authority (NBA). Dr. Joseph Gichuki, head of biotechnology at the Kenya Agricultural Research Institute (KARI), explained the key steps in operating a CFT: the application process, conducting an experiment, the NBA review process, receiving trial material and storage. He also stressed the importance of closely monitoring the movement of trial materials, storage of materials and disposal facilities.
Participants learned the importance of record keeping of all activities in the CFT: planting, storage, special isolation, flowering, whether the crop should be destroyed after flowering and early destruction once the data required has been collected. Postharvest data collection was also discussed, including the need to record if there are volunteer crops after harvest and when they are removed.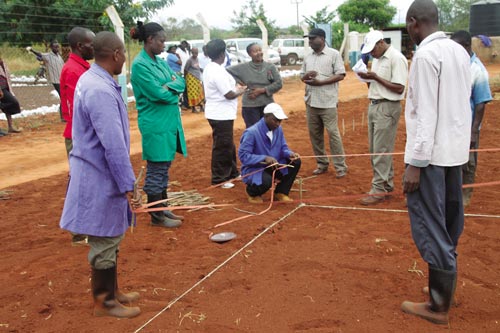 The workshop ended with a practical session. Participants planted an event that is under trial by the WEMA team being led by Regina Tende, a senior research scientist at KARI-Katumani. "It was very educational for all staff members who participated," said Titus Kosgei, IMAS research technician. "We are ready to plant our first mock trials now that our team has been trained on CFT management," said Dr. Biswanath Das, CIMMYT maize breeder and co-leader of the IMAS project.
Dr. Stephen Mugo, CIMMYT maize breeder and WEMA project leader, was one of the course facilitators. The training was coordinated by KARI maize breeder Murenga Mwimali, in collaboration with CIMMYT and partners from the African Agricultural Technology Foundation (AATF), Kenya Plant Health Inspectorate Services, Monsanto and the NBA.
Improved Maize for African Soils(IMAS) was created to improve food security and livelihoods in sub-Saharan Africa by creating and sharing new maize varieties that use fertilizer more efficiently and help smallholder farmers get higher yields, even where soils are poor and little commercial fertilizer is used. To learn more about this project and IMAS visit the project website here.