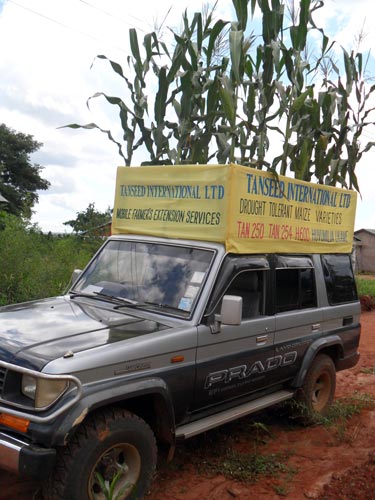 Staff of this Tanzanian seed company drove a vehicle topped with Tanseed drought tolerant varieties in potters through the city's crowded streets during the nation's Worker's Day Celebration. The crowd cheered as the vehicle entered Jamhuri Stadium and passed in front of the chief guest, Tanzanian President Jakaya Kikwete. And because the event was televised live on three national stations, the message about drought tolerant maize was likely viewed by a large audience.
This successful bit of mobile marketing was the brain-child of Tanseed CEO and managing director, Isaka M. Mashauri, a partner and beneficiary of the Drought Tolerant Maize for Africa (DTMA) project. Two drought tolerant varieties from Tanseed, TAN 250 and TAN 254, come from ZM 401 and ZM 721, varieties selected for tolerance to drought and low soil fertility conditions by CIMMYT at Chiredzi, Zimbabwe (for more details, see "No Maize, No Life").
"At Tanseed, we aim to offer farmers many choices when it comes to drought tolerant maize varieties," says Mashauri.