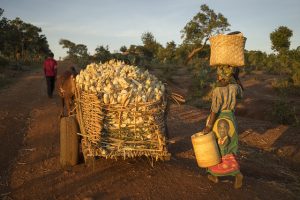 EL BATAN, Mexico (CIMMYT) – Compiling gender-inclusive data could help scientists understand how to help smallholder farmers improve nitrogen fertilizer application practices, according to a new research paper.
Smallholder maize and wheat farmers need to make use of inorganic nitrogen fertilizer alongside other good agronomic practices to produce healthy and productive crops, but nitrogen can be misapplied.
Fertilizer overuse can be harmful to plants and soil, contaminate drinking water and kill off fish species. Additionally, nitrogen fertilizer produces nitrous oxide, a potent greenhouse gas, which contributes to climate change.
"Gender and environmentally-blind fertilizer policies have been the norm in many regions, leading to negative effects in both high and low nitrogen fertilizer use scenarios that impact most strongly on women and children", said Clare Stirling, a senior scientist with the Sustainable Intensification Program at the International Maize and Wheat Improvement Center (CIMMYT).
"Our study shows that moving towards a more balanced and efficient use of nitrogen fertilizer will significantly improve gender and social equity outcomes," Stirling said, adding that such outcomes can only be brought about by significant socio-economic and cultural changes influencing gender and social norms.
"Agriculture needs to function within a 'safe operating space' for nitrogen," she said. "We need to make sure that nitrogen use efficiency is neither too high nor too low. If it's too high, soils are at risk of being mined and become degraded, if it's too low, large amounts of reactive nitrogen are released to the environment."
In developing countries, women make up about 43 percent of the agricultural labor force, but in comparison to men, they have access to only a fraction of the land, credit, inputs – such as improved seeds and fertilizers, agricultural training and information, according to the Farming First coalition
The lack of resource access puts women heads of household at a disadvantage. Even if they are primary decision makers, in general they are hampered by weaker socio-economic status, lower availability of male labor, lower access to markets, agricultural technologies, machinery, credit, collateral and advice, including on how to mitigate and adapt to climate change. As a result of unequal access, women use less fertilizer. They may also forgo food to ensure that children and other family members eat nutritious food, putting their own health at risk.
"Even with training, women may find it more difficult to apply practical knowledge than men due to socio-economic constraints," said Simon Attwood, an agroecology scientist with Bioversity International, who collaborated on the new study, titled "Gender and inorganic nitrogen: what are the implications of moving towards a more balanced use of nitrogen fertilizer in the tropics?"
"There's a growing consensus that gender gaps in access to inputs are in part behind differences in productivity and on-farm practices," he said.
Women farmers who use too little nitrogen fertilizer are trapped in a negative cycle of lower crop yields and income, leading to a greater risk of household food and nutrition insecurity, the scientists said. On the other hand, where too much nitrogen fertilizer is used woman and children are likely to be the most vulnerable to suffering ill-health consequences.
Despite their significant role in agricultural production, particularly in the developing world, women are neglected in most development initiatives, suggesting that the returns on targeting women farmers in relation to promoting best practice fertilizer use, may be very high with respect to increasing production and incomes, according to the authors.
Due to their central role regarding child health, nutrition and education, women should be key beneficiaries of development efforts, the scientists argue.
"These factors make the case that the social returns on agricultural investments are higher when targeted to women," Attwood said.
The scientists took several case studies from India and sub-Saharan Africa, confirming their theory that imbalanced nitrogen fertilizer use has a greater impact on women and children.
The first case study revealed clear connections between negative health outcomes for poor rural women and their infants and the timing of nitrogen fertilizer applications in India. The study showed that morbidity of the babies of poor rural women appears to be negatively affected through their mother's work in rice paddy fields, where they absorb fertilizer-derived toxins.
The second case study suggests that applying nitrogen fertilizer to cash crops rather than staple food crops such as maize may contribute towards less food availability and poorer nutrition outcomes for families in some sub-Saharan African countries.
The third case study in Lake Victoria connects the dots between insufficient fertilizer use, soil degradation leading to soil erosion and runoff into the lake and health problems for both men and women. The presence of high levels of nitrogen in the lake due to poor land management is changing its ecology, affecting the lives of artisanal fisher communities and leading to higher rates of HIV/AIDS.
"As long as the majority of policy-makers and planners remain frozen into a conceptual lock-in oblivious to the gendered implications of technically balanced and socially balanced fertilizer use, women smallholder farmers will not reach their potential," said Cathy Farnworth, a gender specialist working with the CGIAR Research Program on Climate Change, Agriculture and Food Security (CCAFS) and lead author on the research paper.
"We need gender awareness in research studies and rural advisory services to develop appropriate strategies to reach and empower women in different households to help them act independently."
The project was funded by CCAFS, Bioversity, CIMMYT, and the CGIAR Research Programs on wheat and maize.