CIMMYT E-News, vol 3 no. 10, October 2006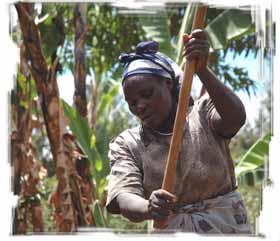 Improved maize makes a big difference in the lives of smallholder farmers on the slopes of Mt Kenya.
It's 4:00 am and still pitch-black on the farm of Consolata Nyaga, but she is already busy at work. With nothing but the dim light of an oil lamp to guide her she carefully milks her two cows to be ready for the buyer who passes her house just before 5:00 every morning. She will get about a dollar for the three liters of milk, a profitable start to what will be a very long working day.
The milk cows are a very small part of her "garden"; a hectare and a quarter of land. She also grows some coffee, bananas, and beans. But what makes her farm work is the half hectare of improved maize she grows every season.
Consolata is a widow living alone, but her maize, a variety released by Kenya based on material from CIMMYT and the Kenya Agricultural Research Institute (KARI), feeds her and gives her the cash to put her 10 children through school. "This season I had thirteen bags" she proclaims. "Because it is my cash crop, I must sell and send the children to school."
Neighbors are curious and come to field days on her farm to learn about the maize, which is not only a higher yielding variety but is also quality protein maize (QPM), meaning it has enhanced levels of the essential nutrient amino acids, lysine and tryptophan.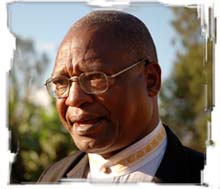 This is a part of Kenya where maize is not only a staple; it is the food people want to eat. Farmers store it inside their homes rather than in outside bins to prevent theft. "Actually any family that has no maize, has no food," says Father Vincent Ireri, the Development Coordinator of the Diocese of Embu. "And anytime, even when we say as a country we have no food or there is famine, the implication is that there is no maize." Ireri leads a team that works in conjunction with Catholic Relief Services, with farmers in the district to demonstrate the advantages of the new maize varieties.
CIMMYT and KARI have been working in this area to help farmers with maize varieties that are more drought-tolerant and insect resistant and under proper management give higher yields. Much of the work in this area has been funded by the Canadian International Development Agency (CIDA). Consolata and the community group of which she is the treasurer have been quick to adopt the improved materials. Life seems to revolve around maize on Consolata's small farm. In fact when she comes back from selling the milk each morning she immediately settles down to a hot mug of uji—a maize meal porridge. At midday she starts to prepare for the evening meal. She puts a mixture of maize and beans, called githeri, to boil on the cooking fire and then heads to her last unprepared field with a large hoe. No animal-drawn plow, just the power of one energetic maize farmer.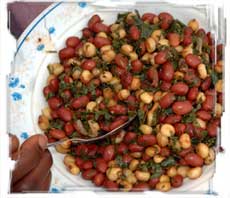 "Ah no! Let me tell you, if you eat potatoes and cabbages and eat rice, you cannot have energy to dig," she says. "Yes, maize has got very big energy. You see somebody like myself after 56 years cannot dig unless you eat something good!"
Four hours later, and after a trip to the market to sell a bag of maize, dinner is ready. Neighbors, friends, and relatives have stopped by to enjoy the feast as the sun sets.
"Whenever, if I miss maize, I feel as if I am losing somehow," Consolata says. "Maize is good. Maize is my favorite thing. And I like it. Yes."
You can read more about the adoption of quality protein maize in the Embu district in the August E-news article The maize with the beans inside: QPM gathers a following in Kenya.
For more information contact Dennis Friesen (d.friesen@cgiar.org)