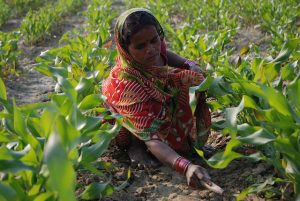 India needs to tackle greenhouse gas emissions from its rice and livestock sectors according to a study by CIMMYT and partners. Researchers say this can and must be done in ways that improve yields, and sustain food and nutrition security.
India faces serious challenges when it comes to feeding its growing population. Hunger is prevalent, with over 190 million undernourished people – almost a quarter of the global hunger burden, affecting 4 out of 10 children. Although the productivity of major crops is increasing after the green revolution, yield increases have slowed down recently, and many of the country's poorest and most vulnerable people have been left behind. Feeding an ever-growing population is a mammoth task, further complicated as climate change unleashes its effects, bringing droughts, pests, extreme heat and floods.
Paradoxically, India is also the world's second largest food producer, and agriculture is a vital part of the country's economy. Indian agriculture also accounts for about 18% of the country's greenhouse gas emissions, making agriculture a key sector for climate action. In fact, India's government has already indicated willingness to reduce emissions from agriculture as part the Paris Climate Agreement, in an effort to keep global warming below the 2-degree target. To take action, the country's leaders need to know where to focus their efforts, and find ways to reduce emissions without compromising food and nutrition security.
Indian agriculture's climate 'hotspots'
A new study uncovers some answers to this question, and offers insights into how dietary shifts might influence future emissions. The study, Greenhouse gas emissions from agricultural food production to supply Indian diets: Implications for climate change mitigation, was done by researchers from the International Maize and Wheat Improvement Center (CIMMYT) and partners at the University of Aberdeen and the London School of Hygiene & Tropical Medicine. Using the empirical model Cool Farm Tool, researchers analyzed the farm-level greenhouse gas emissions of 20 major food commodities in India, and two types of food products emerged as the worst culprits: rice and animal products such as meat, milk and eggs.
When looking at the level of emission per unit of area and unit of product, rice was the top source of emissions in agriculture. Continuously flooded paddies release huge amounts of methane, especially compared to intermittently flooded or irrigated rice land. The scientists found that the total global warming potential of rice on a per hectare basis was even higher than what was being reported in existing literature and at the national level.
Meat, eggs and milk were also found to have high emissions per unit of production. The authors warn that animal products will contribute an increasing share to overall emissions as India's middle class grows, traditions evolve, and diets shift towards consumption of more animal products. That said, it will probably not match the rapid trajectory towards meat consumption of other large countries like China, due to India's cultural preference for a lacto-ovo-vegetarian diet.
No tradeoff between mitigation and food security
The revelation of India's agricultural emission 'hotspots' are a crucial step towards action. "These findings can help farmers, researchers and policy makers to understand and manage these emissions, and identify mitigation responses that are consistent with India's food security and economic development priorities," according to CIMMYT scientist Tek Sapkota, who co-authored the paper. "Agriculture is an important sector of the economy," he said. "If India is to reduce its total emissions then agriculture has to play its part," he explained, mentioning that emissions from agriculture must decline worldwide in order to meet the 2°C warming target.
In the UN climate discussions on agriculture, there has been ongoing resistance among some countries about promoting mitigation in agriculture, due to fears that this could compromise food security and nutrition. This is a "misconception" according to Dr. Sapkota. "Many agricultural practices advocated to increase production and increase the capacity of a system to cope with climate change also happen to reduce emissions," he explained. The paper's authors emphasize that mitigation must be a co-benefit of improved and more efficient agronomic practices, and interventions will need to consider the nutritional and health implications. Negotiators at the upcoming UN climate talks in Bonn should take note as they mull a decision on agriculture.
Sustainable solutions
There are many approaches and technologies in agriculture that can contribute to food and nutrition security and at the same time deliver climate change adaptation and mitigation services. Dr. Sapkota is part of a team undertaking a detailed analysis of mitigation options, their national level mitigation potential and associated cost of their adoption to come up with total technical mitigation potential sector of Indian agriculture. This study is coming out very soon, and will help build a more complete picture of the solutions available.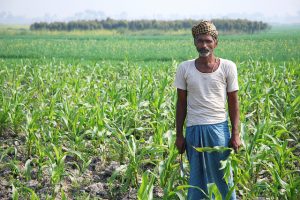 As an example, Dr. Sapkota points to conservation agriculture, which is based on the principles of minimum soil disturbance, continuous soil cover and diversified crop rotation. Conservation agriculture techniques can increase production in a sustainable way, by improving water use efficiency, reducing fertilizer consumption and reducing machinery use and fuel consumption. Through this approach, "you can reduce production costs, without compromising yield. In some instances you can increase yields. It's a win-win from every perspective," he says. Farmers are already getting more precise at managing nutrients, using several tools like the GreenSeeker and the , and techniques such as drilling fertilizer into the soil instead of broadcasting it. They are also using decision support systems like Nutrient expert and the Crop Manager, to help them determine how much fertilizer to apply, at the right time and in the right place. These approaches have been shown to reduce the amount of fertilizer needed while maintaining and even increasing yields.
In a similar vein, Alternative Wetting and Drying of rice fields, which otherwise remain continuously flooded, can reduce methane emissions substantially. In Vietnam and the Philippines, farmers have successfully used this method and reduced methane emissions by 48% without reducing yield.

In the livestock sector, there several ways to address emissions, including improved manure management, changing feed rations, growing feed crops in a more sustainable way, and feeding animals crop residues that would otherwise be burned.
Although the study points out food products with a particularly high climate footprint, it's important not to think about solutions on a commodity-by-commodity or crop-by-crop basis, according to Dr. Sapkota. "Farmers grow crops in a system and we need system-based solutions," he says. "For example, in the rice-wheat system in Indo-Gangetic Plains, if you want to go for conservation agriculture you cannot just focus on one crop. The way you manage water, energy,nutrients and other resources for one crop will have repercussions on other crops," he explains.
The results of this study are an important starting point. "India is moving in the right direction," says Dr. Sapkota. "Now there needs to be more research to show the effectiveness of technical mitigation options which can reduce emissions without compromising yield and profit," he says. The government must also work closely with people on the ground: "There must be more awareness among extension workers and farming communities that they are part of this movement to tackle climate change," he adds.
At this year's UN Climate Talks, CIMMYT is highlighting innovations that can help farmers overcome climate change. Read more stories in this series and follow @CIMMYT for the latest updates.
Download the paper:
Vetter SH, Sapkota TB, Hillier J, Stirling CM, Macdiarmid JI, Aleksandrowicz L, Green R, Joy EJM, Dangour PD, Smith P. 2017. Greenhouse gas emissions from agricultural food production to supply Indian diets: Implications for climate change mitigation. Agriculture, Ecosystems & Environment 237: 234–241.
Acknowledgments
The study is part of the Sustainable and Healthy Diets in India (SAHDI) project funded by the Wellcome Trust under the 'Our Planet, Our Health' programme (Grant number 103932) and the India Greenhouse Gas Mitigation Study led by the International Maize and Wheat Improvement Center (CIMMYT) and part of the CGIAR Research Program on Climate Change, Agricultural and Food Security (CCAFS).