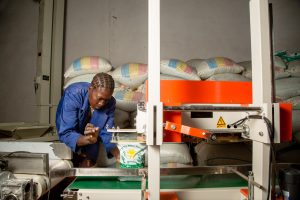 A newly published special issue in the journal Outlook on Agriculture features views and experiences on seed systems performance in Sub-Saharan Africa and options to drive faster uptake of new crop varieties. The contributions reflect the breadth of perspectives and expertise within CGIAR and beyond and make the case for the need for more demand-oriented variety development and seed delivery.
A seed system refers to the various actors, processes, and relationships that allow for the production, conservation, exchange and use of propagation materials for crops, trees, forages, livestock, and fish. For the International Maize and Wheat Improvement Center (CIMMYT), seed systems involve private seed companies, retailers, and government research agencies, among others, that are involved in the design, testing, production and distribution of high-yielding, climate-resilient, and pest- and disease-resistant maize hybrids.
"A well-functioning seed system is critical for ensuring that farmers have reliable access to the quality seeds that they want. It forms the critical link between breeders and the small-scale farmers responsible for much of the food production in Sub-Saharan Africa, Latin America and South Asia," said CIMMYT Senior Economist Jason Donovan, who co-authored the introductory article.
"The papers in this collection raise important issues which up to now have not received enough attention, to include the strategies, capacities and incentives of the private sector to invest in the distribution of new varieties. The topics discussed have implications for the One CGIAR in its ongoing efforts to develop a coherent and coordinated seed system research program that supports accelerated varietal uptake and turnover through effective seed delivery," he added.
CIMMYT researchers contributed two papers, one which looks at the role of different types of seed producers and traders in shaping seed systems performance and another which proposes new directions for research on gender and formal maize seed systems. The special edition grew out of the CGIAR Community of Excellence for Seed Systems Development where CIMMYT led the discussion on seed value chains and private sector linkages.
One consensus among the authors is that a wider range of partnerships will be required to reenforce the potential of seed systems to delivery more new varieties to small-scale farmers in less time.
The full special series is available here: https://journals.sagepub.com/toc/OAG/current