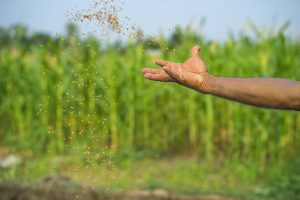 Conservation agriculture (CA) is widely promoted in sub-Saharan Africa as an adaptable and sustainable way to farm in changing climates. CA has three major principles: the minimal disturbance of soil via zero till planting, crop diversification and soil cover by either residues or cover crops.
A new study examined over 700 independent studies to find out if CA works in a variety of environmental conditions in tropical areas.
The authors found that in drought and high-temperature conditions, maize yields under CA improved relative to conventional farming. This relative improvement, they said, is because CA helps water infiltrate better into the soil than conventional farming.
These same moisture-retaining attributes that make CA effective in drought-like conditions can worsen the impact of flooding. However, droughts are expected to worsen in coming years, making these water-retaining qualities likely more advantageous in the long term.
Overall, the study found that CA systems have more stable yields across different stress levels, outperform their conventional counterpart in many cases even without the addition of nitrogen fertilizers and increase the adaptive capacity of maize-based cropping systems.
Read the full study "The adaptive capacity of maize-based conservation agriculture systems to climate stress in tropical and subtropical environments: A meta-regression of yields" and check out other recent publications by CIMMYT staff below:
Markers linked to wheat stem rust resistance gene Sr11 effective to puccinia graminis f. sp. tritici Race TKTTF. 2016. Nirmala, J., Shiaoman Chao, Olivera, P., Babiker, E.M., Abeyo Bekele Geleta, Tadesse, Z., Imtiaz, M., Talbert, L., Blake, N.K., Akhunov, E., Pumphrey, M., Yue Jin, Rouse, M.N. In: Phytopathology, v. 106, no. 11, p. 1352-1358.
Modeling the risk of invasion and spread of Tuta absoluta in Africa. 2016. Guimapi, R.Y.A., Mohamed, S.F., Okeyo, G.O., Ndjomatchoua, F.T., Ekesi, S., Tonnang, H. In: Ecological complexity, vol. 28, p. 77-93.
Modelling and genetic dissection of staygreen under heat stress. 2016. Suzuky Pinto, R., Lopes, M.S., Collins, N.C., Reynolds, M.P. In: Theoretical and Applied Genetics, vol. 129, p. 2055-2074.
Multidimensional impact assessment of zero tillage technology on wheat productivity in Haryana. 2016. Kumar, A. , Singh, R., Shahnawaz Rasool Dar, Singh, S.,  Gathala, M.K., Kanchan Pathania In: Journal of Food, Agriculture and Environment. 2016, vol. 14, no. 2, p. 85-90.
Nested association mapping of stem rust resistance in wheat using genotyping by sequencing. 2016. Bajgain, P., Rouse, M.N., Tsilo, T.J., Macharia, G., Bhavani, S., Yue Jin, Anderson, J.A. In: PLoS One, vol. 11, no. 5: e0155760.
Occurrence, identification and phylogenetic analyses of cereal cyst nematodes (Heterodera spp.) in Turkey. 2017. Jiang-Kuan Cui, Huan Peng, Shi-ming Liu, Erginbas-Orakci, G., Imren, M., Dababat, A.A., De-Liang Peng In: Journal of integrative agriculture, vol. 16, no. 0, p. 1-10.
On-farm yield gains with Stress-Tolerant Maize in Eastern and Southern Africa. 2017. Setimela, P.S., Magorokosho, C., Lunduka, R., Gasura, E., Makumbi, D., Amsal Tesfaye Tarekegne, Cairns, J.E., Thokozile Ndhlela, Erenstein, O., Mwangi, W.M. In: Agronomy Journal, v. 109, no. 2, p. 406-417.
Pedigree-based prediction models with genotype × environment interaction in multi-environment trials of CIMMYT wheat. 2017. Sukumaran, S., Crossa, J., Jarquín, D., Reynolds, M.P. In: Crop Science, vol. 57, p. 1-16.
Predicting grain yield using canopy hyperspectral reflectance in wheat breeding data. 2017. Montesinos-Lopez, O.A., Montesinos-López, A., Crossa, J., De los Campos, G., Alvarado, G., Mondal, S., Rutkoski, J., Gonzalez-Perez, L., Burgueño, J. In: Plant methods, v. 13, no.4.
Soil organic carbon changes after seven years of conservation agriculture in a rice–wheat system of the eastern Indo-Gangetic Plains. 2017. Sapkota, T.B., Jat, R.K., Ravi Gopal Singh, Jat, M.L., Stirling, C., Jat, M.K., Bijarniya, D., Kumar, M., Singh, Y., Saharawat, Y.S., Gupta, R.K. In: Soil Use and Management, v. 33, p. 81-89.
The adaptive capacity of maize-based conservation agriculture systems to climate stress in tropical and subtropical environments: A meta-regression of yields. 2018. Steward, P.R., Dougill, A.J., Thierfelder, C. Pittelkow, C.M., Stringer, L.C., Kudzala, M., Shackelford, G.E. In: Agriculture, Ecosystems & Environment, v. 251, p. 194-202.