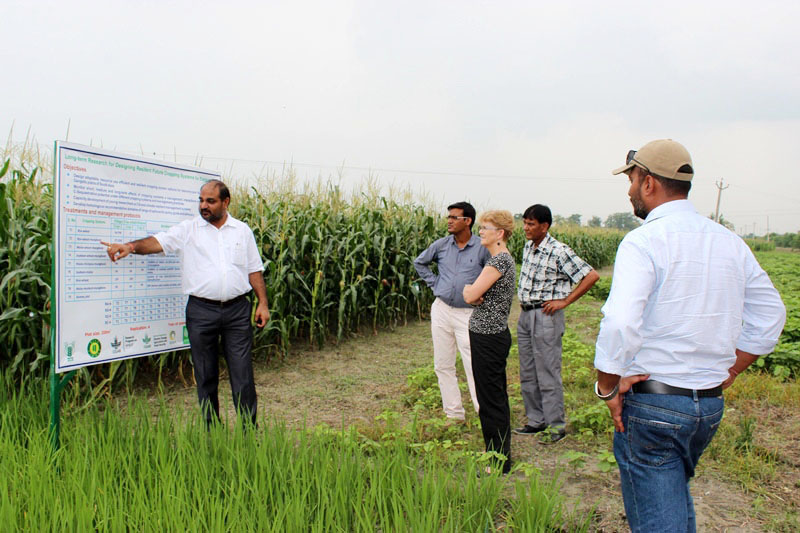 CIMMYT Senior Scientist M.L. Jat has received India's National Academy of Agricultural Sciences (NAAS) fellowship in Natural Resource Management for his "outstanding contributions in developing and scaling" conservation agriculture-based management technologies for predominant cereal-based cropping systems in South Asia.
M.L.'s research on conservation agriculture (CA) – sustainable and profitable agriculture that improves livelihoods of farmers via minimal soil disturbance, permanent soil cover, and crop rotations – has guided improvements in soil and environmental health throughout South Asia. His work has led to policy level impacts in implementing CA practices such as precision land leveling, zero tillage, direct seeding, and crop residue management, and he has played a key role in building the capacity of CA stakeholders throughout the region.
Research such as M.L.'s is more important every day, as we learn to do more with less on a planet with finite resources and changing climate. Sustainable innovation, including climate-smart agriculture, is a major theme at the ongoing COP21 climate talks where global leaders are gathered to decide the future of our planet. M.L. tells us below how CA can play a part in climate change mitigation and adaptation, and the future of CA in South Asia.
What are the major threats global climate change poses to South Asian agriculture?
South Asia is one of the most vulnerable regions in the world to climate change. With a growing population of 1.6 billion people, the region hosts 40% of the world's poor and malnourished on just 2.4% of the world's land. Agriculture makes up over half of the region's livelihoods, so warmer winters and extreme, erratic weather events such as droughts and floods have an even greater impact. Higher global temperatures will continue to add extreme pressure to finite land and other natural resources, threatening food security and livelihoods of smallholder farmers and the urban poor.
How does CA mitigate and help farmers adapt to climate change?
In South Asia, climate change is likely to reduce agricultural production 10‐50% by 2050 and beyond, so adaptation measures are needed now. Climate change has complex and local impacts, requiring scalable solutions to likewise be locally-adapted.
Climate-smart agriculture (CSA) practices such as CA not only minimize production costs and inputs, but also help farmers adapt to extreme weather events, reduce temporal variability in productivity, and mitigate greenhouse gas emissions, according to numerous data on CA management practices throughout the region.
What future developments are needed to help South Asian farmers adapt to climate change?
Targeting and access to CA sustainable intensification technologies, knowledge, and training – such as precision water and nutrient management or mechanized CA solutions specific to a farmer's unique landscape – will be critical to cope with emerging risks of climate variability. Participatory and community-based approaches will be critical for scaled impact as well. For example, the climate smart village concept allows rural youth and women to be empowered not only by becoming CA practitioners but also by serving as knowledge providers to the local community, making them important actors in generating employment and scaling CA and other climate-smart practices.
Where do you see your research heading in the next 10-15 years?
Now that there are clear benefits of CA and CSA across a diversity of farms at a regional level, as well as increased awareness by stakeholders of potential challenges of resource degradation and food security in the face of climate change, scaling up CA and CSA interventions will be a priority. For example, the Government of Haryana in India has already initiated a program to introduce CSA in 500 climate smart villages. Thanks to this initiative, CA and CSA will benefit 10 million farms across the region in the next 10-15 years.
Climate-Smart Villages
Climate-Smart Villages are a community-based approach to adaptation and mitigation of climate change for villages in high-risk areas, which will likely suffer most from a changing climate. The project began in 2011 with 15 climate-smart villages in West Africa, East Africa and South Asia, and is expanding to Latin America and Southeast Asia. CIMMYT is leading the CCAFS-CSV project in South Asia.