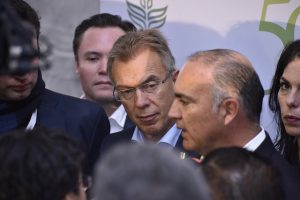 EL BATAN, Mexico (CIMMYT) – Although increasing food supply to meet future demand must involve pushing the boundaries on technological innovation, sustainability must always be first and foremost, said Martin Kropff, director general of the International Maize and Wheat Improvement Center (CIMMYT), at a conference to mark the 50th anniversary of the organization, which has attracted almost a thousand delegates from Mexico and around the world, including agriculture ministers, scientists, policy makers and farmers.
"We can't afford to be complacent because the need is so immense, but we must be cautious in our application of research to consider farmer needs and the environment," Kropff said, as he set out a strategic plan for CIMMYT until 2022. "It's not just about food security, we must achieve nutritional security as well."
Kropff detailed plans to take a broader view of maize and wheat as components of agrifood systems, rather than strictly as commodities, taking into consideration the activities and relationships that determine how food is produced, processed, distributed and consumed, together with the human and biological systems that shape those activities.
"Already, at least 900 million people go to bed hungry at night – an unacceptable number now, which will continue to grow in tandem with population growth if we don't ratchet up our efforts to improve maize and wheat yields," he said, adding that the U.N. Sustainable Development Goals provide a roadmap for ensuring food security.
He also announced that CIMMYT would engage in more public-private partnerships and increase its focus on training and capacity building.
Just as a Mexican delegation, including agriculture secretary Jose Calzada Rovirosa, arrived at CIMMYT's main research station in El Batan outside Mexico City, the skies opened and rain poured down, fortunately clearing in time for mid-day tours of the crops, wheat quality laboratory and the gene bank.
Mexico plays a major role in the improvement of maize and wheat crops by hosting five CIMMYT research stations throughout the country and providing funding for such programs as MasAgro, a project that not only works to develop improved maize and wheat varieties but also supports conservation agriculture techniques that help increase yields and improve environmental sustainability of farming.
"CIMMYT's achievements are indisputable," Calzada Rovirosa said. "'CIMMYT 50' calls on all of our consciences. The world needs to increase yields without hurting the environment."
He affirmed his continued support for the longstanding partnership between CIMMYT and Mexico.
"The Mexican government is committed to continuing the promise we made 50 years ago to support CIMMYT and agricultural research in Mexico," said Calzada Rovirosa, who also delivered a message of congratulations from Mexico's President Enrique Peña Nieto.
Farmers in Mexico were represented at the conference by Rodolfo Rodriguez Flores, president of Patronato, the farmers' organization in Mexico's northern state of Sonora.
Later in the day, agriculture ministers from Afghanistan, Bangladesh, Kenya and Pakistan, countries where CIMMYT has also played a key role supporting national agricultural programs, spoke, detailing achievements and future plans.
CIMMYT needs long-term, secure funding to achieve its goals, said Derek Byerlee, a former World Bank economist and adviser who delivered the keynote address at the conference.
"Although the first drought-tolerant maize varieties were made in the 1980s, we're just now achieving widespread distribution of drought-tolerant maize seed in Africa," said Byerlee who has had a long association with CIMMYT. "The CIMMYT maize program works with 200 local and global seed companies and it's crucial to get these varieties to farmers."
Byerlee's history of CIMMYT, titled "The Birth of CIMMYT – Pioneering the idea and ideals of international agricultural research" was published this month. It details the challenges global agricultural research faces.
Today, global, publicly-funded networks which combine the talent and resources of scientists and institutions across borders to foster more productive, profitable agricultural systems seem logical, but at their inception after World War Two, they were remarkably innovative, Byerlee said.
Developing countries will need to take much larger responsibility and participation in their own agricultural development, but the principles that underlie the origins of CIMMYT and the CGIAR remain valid.
At the same time, many countries where CIMMYT works are embroiled in conflict, making research and development activities difficult and at times dangerous.
Other highlights of the day included speeches by Sanjaya Rajaram, a prolific wheat breeder known as the Sultan of Wheat who worked for many years at CIMMYT as director of the Global Wheat Program and won the 2014 World Food Prize.
"New wheats are better able to produce under high temperatures, but more needs to be done to address climate change," Rajaram said, adding that disease resistance has been a critical achievement in protecting yield.
"More prosperous emerging countries like India or Mexico need to provide long-term funding for CIMMYT and other CGIAR centers and programs," he said. "CIMMYT scientists based in our target countries and global partnerships are key to success. It's a shared global enterprise with national systems and the private sector."
Julie Borlaug, the granddaughter of the late 1970 Nobel Peace Prize laureate Norman Borlaug, the key wheat breeder known internationally as the father of the Green Revolution, spoke enthusiastically of CIMMYT's work and compassionately about rural poverty and smallholder farmers.
"Mexico is a leader and should continue its legacy worldwide," said Julie Borlaug, who is now associate director of external relations at the Norman Borlaug Institute for International Agriculture at Texas A & M University.
Reporting by Ricardo Curiel, Jennifer Johnson, Mike Listman, Katelyn Roett and Miriam Shindler.