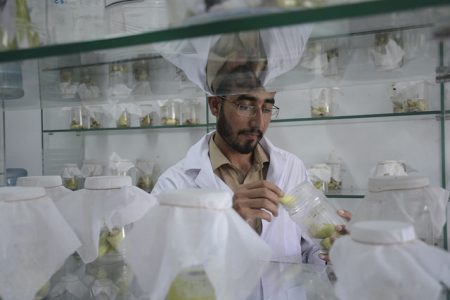 Islamabad (CIMMYT) — The United States Agency for International Development (USAID) and along with local and national media recently toured agricultural initiatives led by the International Maize and Wheat Improvement Center (CIMMYT) at the National Agricultural Research Centre (NARC).
Yusuf Zafar, Chairman of the Pakistan Agriculture Research Council (PARC), highlighted the Agricultural Innovation Program's (AIP) aim to improve farming practices and livelihoods in farming communities – especially for smallholders – across Pakistan.
Funded by USAID and led by CIMMYT, AIP has helped boost agricultural productivity by bringing new technologies to the sector while of sustainable practices, which has helped improve Pakistan's overall economy, Zafar added. Agriculture is the largest sector of Pakistan's economy, supporting half of the country's labor force.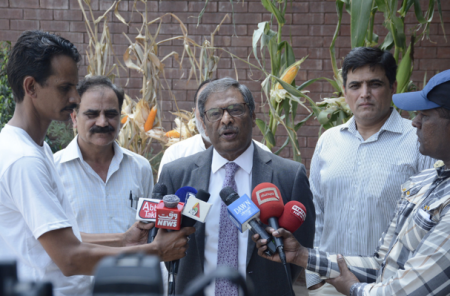 Muhammad Imtiaz, CIMMYT country representative in Pakistan and AIP project leader, briefed media representatives about the collaboration between USAID and CIMMYT along with the NARC and other partners. He highlighted key AIP successes, such as such as the introduction of new planting machineries and drip irrigation systems.
The tour also visited to maize fields at NARC where AIP initiatives in improved livestock, maize and wheat were showcased. AIP scholars – students who have completed their master's degree in the U.S. with AIP funds – were also present and provided information on their experiences and accomplishments.
AIP will continue to scale out successful technologies, encourage innovation through national agricultural research systems and secure resources to combat climate change effects in agriculture.
Media coverage of the event: