"Climatic extremes and variability are  becoming more frequent and resulting in losses for farmers. This issue cannot be addressed in isolation; it needs collective participation of all stakeholders, at all levels," stated Clare Stirling, leader of the CIMMYT component of the Climate Change, Agriculture and Food Security (CCAFS) CRP, at a stakeholder consultation on 'Climate Smart Agricultural Technologies for Smallholder Farmers of Bihar' held on 22 July 2013.
The talks were organized by CIMMYT and BISA, under the aegis of CCAFS, and in collaboration with national research and extension partners such as the Indian Council of Agricultural Research (ICAR), Indian Agricultural Research Institute (IARI), Rajendra Agriculture University, the State Department of Agriculture, and the Government of Bihar; international centers Bioversity International, the International Water Management Institute, and the International Food Policy Research Institute; local NGO and private sector partners; and farmer groups of the Climate Smart Village (CSV) clusters, Vaishali district, Bihar.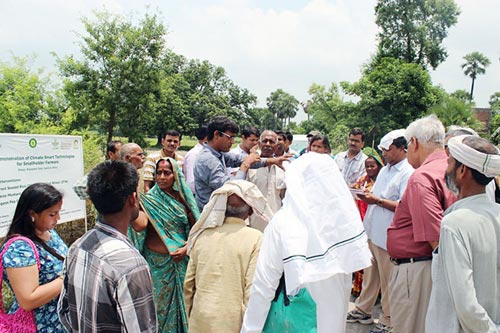 The lively discussions included almost 200 participants, including innovative CSV farmers from Bhatthadasi, Rajapakar, and Mukundpur (Vaishali district); agriculture advisors from various Village Panchayats; climate smart farmer groups, research students, and local service providers. M.L. Jat, CIMMYT-CCAFS South Asia Leader, explained the concept of CCAFS CSVs in South Asia, and the key climate smart activities they are implementing for the benefit of smallholder farmers in Bihar's Vaishali district. Participants visited demonstration plots where R.K. Jat, CIMMYT-BISA Cropping Systems Agronomist, showed how mechanization and conservation agriculture-based management practices are being implemented even on small, fragmented land holdings. By effectively 'pooling' their land for operational purposes, farmers have improved efficiency, reduced costs, and established timely crop management even with uncertain rainfall. R.K. Jat also explained the main advantages of the key climate smart interventions such as zero tillage, Direct Seeded Rice (DSR), raised bed planting, residue management, crop diversification, and nutrient management in managing climate risks and optimizing resources for higher profitability for the smallholders.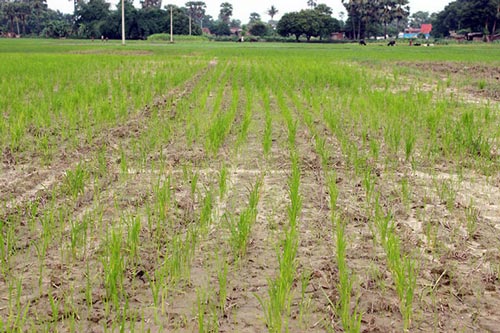 The active participation of about 80 female farmers allowed for a balanced and varied consultation. All the farmers expressed their concerns regarding climate variability and how it is affecting their livelihoods. They shared their experiences of turning their villages into CSVs, and how the new practices have benefitted them; after planting their wheat under zero till in the winter of 2012-13, farmers were initially skeptical of these changes to age-old practices, but having now reaped higher yields with less input costs, all the farmers have committed to planting under zero tillage next season. DSR has also been recently introduced, and the farmers thought the technology seemed promising in that it would reduce cultivation costs and provide some security under the increasing uncertainties of rainfall and labor shortages. The women farmers praised the intoduction of the ZT machine by CIMMYT under CCAFS. With many men migrating to cities, the women highlighted the reduced labor load with the increased availability of machinery and bed planting of maize and legumes.
I.S. Solanki, IARI Regional Station Head, emphasized the need for farmers to work with scientists in adopting resilient farm technologies and locally-adapted seed. This was reiterated by Stirling: "The concept of CSVs is just one example of making synergies among different programs, investments, institutions, and stakeholders, for adaptation, risk management, and mitigation of climate change effects," she said.