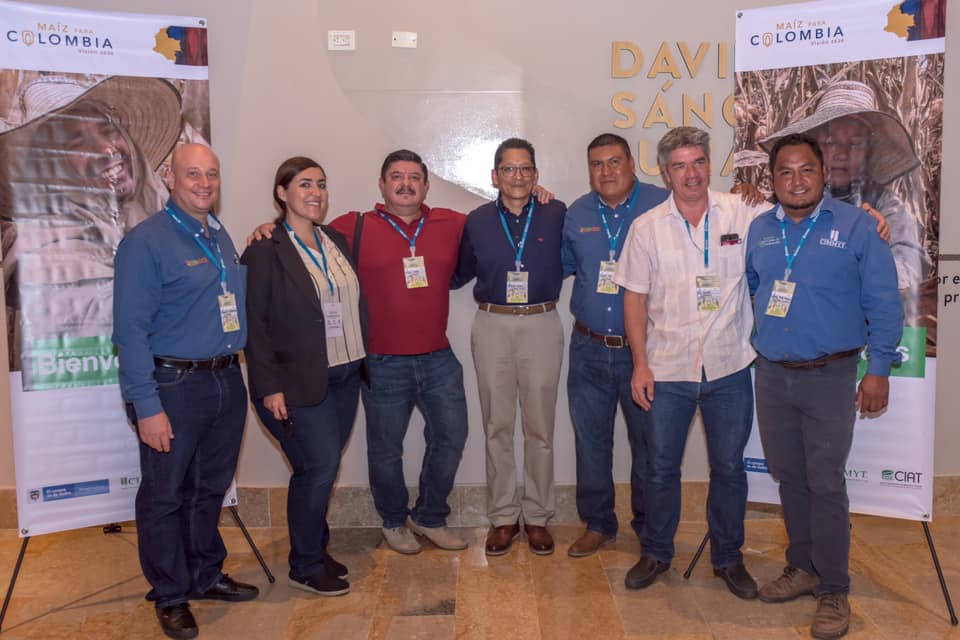 Latin America is the birthplace of maize and home to much of its genetic diversity. Maize is a main staple food across the continent and plays an important role in local culture and gastronomy. However, maize faces many challenges, from climate change related stresses such as drought and heat to emerging pests and diseases. Maize experts, as well as scientists from other key crops, from around the world came together to discuss these challenges and how to solve them at the 23rd Latin American Maize Reunion and 4th Seed Congress, held October 7-10 in Monteria, Colombia.
The reunion began with a welcome address from Luis Narro, a senior maize scientist with the International Maize and Wheat Improvement Center (CIMMYT). Narro thanked participants for coming from throughout the region and discussed the history of the event. "Why are we here today? Because maize is one of the most important crops of this century. This should be both a challenge and incentive for us to continue our work with maize, as it is a crop with huge demand," he said.
In the inaugural session, Deyanira Barrero, general manager of the Colombian Agricultural Institute (ICA) and Jorge E. Bedoya, president of the Society of Colombian Farmers, highlighted the importance of seeds and strategies to ensure the quality and future of Colombia and Latin America's agri-food systems.
The event was organized by the Colombian Corporation for Agricultural Research (Agrosavia), the Colombian Seed and Biotechnology Association (Acosemillas), the National Federation of Cereal and Legume Growers (Fenalce), the Latin American maize network, and the International Maize and Wheat Improvement Center (CIMMYT). Four CIMMYT scientists presented at the reunion, sharing their experience with and perspectives on agronomy, seed systems, native maize and strategies to increase resilience to climate change.
Nele Verhulst, senior scientist at CIMMYT, presented on the development of management practices for conservation agriculture as well as post-harvest technologies in Latin America, particularly Mexico and Central America. She emphasized the importance of crop management in maize so that improved seeds can reach their maximum potential in terms of yield and profitability. The seed systems lead for Africa and Latin America with CIMMYT's Global Maize Program, Arturo Silva, shared his experience in these regions strengthening maize seed systems and working to accelerate variety replacement with newer, better seeds. Terry Molnar, maize breeder at the Center, studies native maize varieties to identify characteristics such as disease resistance that can be used to develop improved maize varieties for smallholder farmers. Kai Sonder, head of CIMMYT's Geographic Information System (GIS) unit, presented on the potential impact of climate change on global and regional maize production.
The reunion closed with the award session for the winners of the MAIZE Youth Innovators Awards 2019 – Latin America. The awards, an initiative of the CGIAR Research Program on Maize (MAIZE), seek to recognize the contributions of young women and men who are implementing innovations in Latin American maize-based agri-food systems.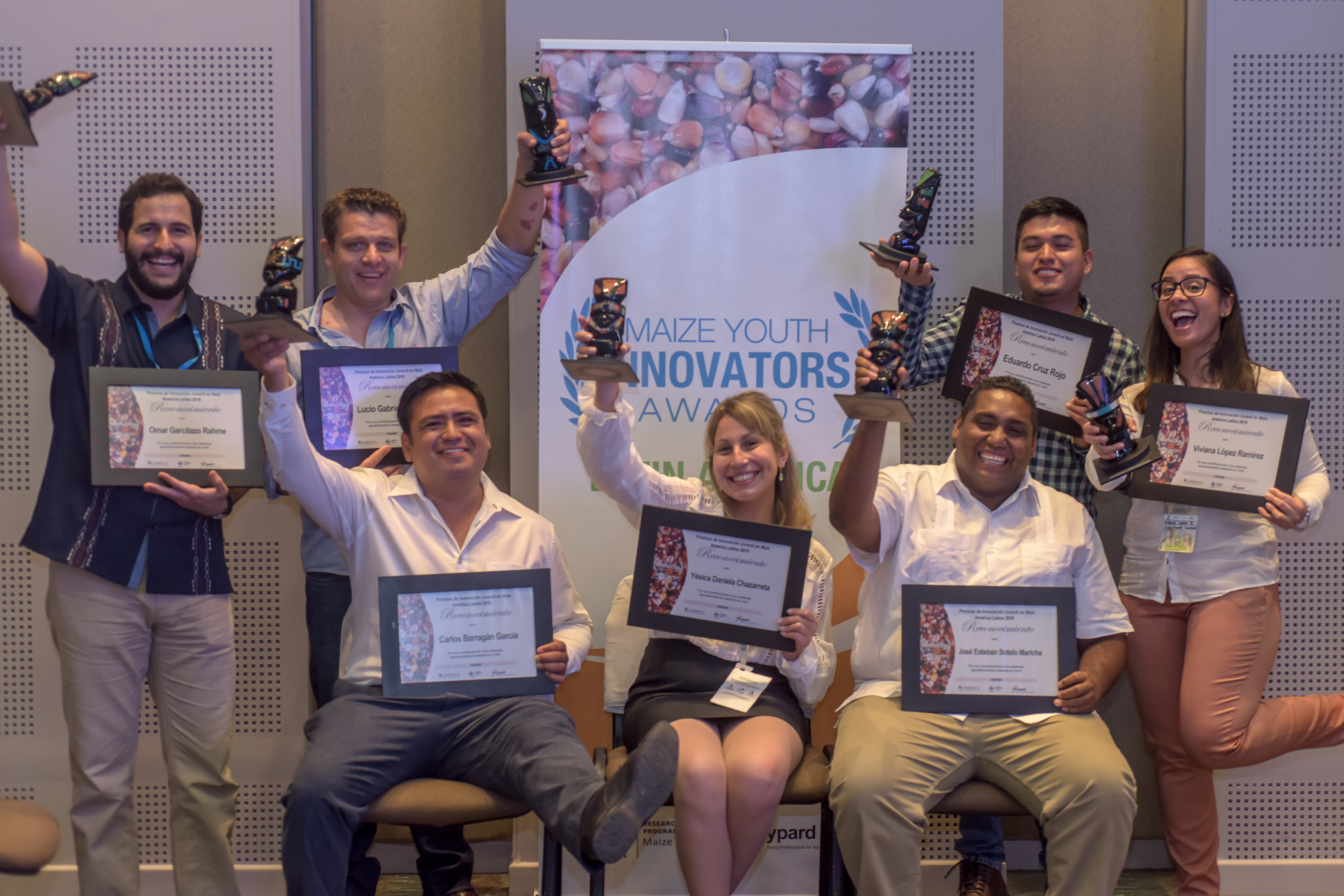 Eduardo Cruz Rojo, Mexico, won in the "Farmer" category for his work using biological control agents to protect maize from fall armyworm. Carlos Barragán and José Esteban Sotelo Mariche, both from Mexico, won in the category of "Change Agent" for their work helping farmers increase their maize yields through inter-cropping and for helping farmers better commercialize their native maize, respectively. In the "Researcher" category, Yésica Chazarreta, from Argentina, won for her research on the effect of maize planting dates on grain filling and drying. Omar Garcilazo Rahme of Mexico was recognized for his work helping farmers grow high-value edible maize fungus in traditional maize production systems. Viviana López Ramírez of Colombia won for her work on bacteriosis in maize, and Lucio Reinoso of Argentina for his contribution to the development of a maize seeder that helps farmers adopt conservation agriculture techniques. In a video message, B.M. Prasanna, director of the CIMMYT global maize program and the CGIAR Research Program on Maize (MAIZE), congratulated the young winners and expressed his hopes that they would inspire other young people to get involved in maize based systems. This was the first time the awards were held in Latin America, following Asia in 2018 and Africa in spring of 2019.
Two additional awards were given at the close of the reunion, one to Alberto Chassiagne, maize seeds systems specialist for Latin America at CIMMYT, who received first place in the scientific poster competition at the reunion for his work "Proposed model to generate seed production technology for maize hybrids". Another award went to Luis Narro for his contributions to maize in Latin America throughout his career.
The conference was followed by a field day held October 10 at the Agrosavia Turipaná Research Center in Cereté, Colombia. The field day began with a speech by Colombia's Minister of Agriculture and Rural Development, Andrés Valencia, who discussed the importance of agriculture to his country's economy as well as plans to increase maize production to decrease reliance on imports. This announcement follows the launch of Maize for Colombia, a strategic plan to help improve maize production in the country while increasing sustainability.