The international training workshop "Approaches for integrated analysis of agricultural systems in South Asia: Field, to farm, to landscape scale," jointly organized by CIMMYT and the Indian Council of Agricultural Research (ICAR)-Central Soil Salinity Research Institute (CSSRI), was held at Karnal, Haryana, India, during 18-23 May. The workshop targeted farming systems and agricultural development researchers in South Asia and provided an overview of the approaches and tools used to assess agricultural systems.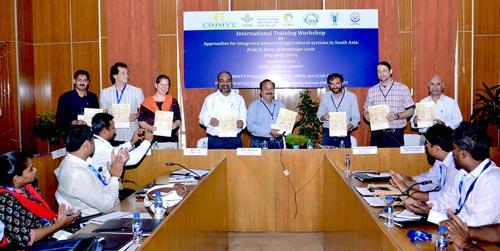 Compared to the rest of the world, South Asia's natural resources are 3-5 times more stressed due to population and economic pressures. Several agricultural technologies and practices have been developed to address resource management challenges. However, researchers need to conduct specialized analyses of complex farming systems to find out which technologies are appropriate for farmers.
The training workshop allowed participants to share their experiences in the field and create better methods to ensure successful interventions. P.C. Sharma, Head of the Crop Improvement Program, CSSRI, commenced the workshop and greeted the participants, who comprised 30 young researchers from national research institutions and universities in India, Nepal and Bangladesh. Santiago López Ridaura, CIMMYT Global Conservation Agriculture Program Systems Agronomist, presented workshop objectives, which included introducing participants to integrated farming systems analysis as well as to modeling tools and technology designed for specific farming communities.
"This course is the first of its kind in the region," emphasized M.L. Jat, CIMMYT Cropping Systems Agronomist. "It is unique, demand-driven and organized to strengthen the capacity of young researchers in the region so that they may more effectively help build livelihood security for smallholder farmers."
D.K. Sharma, CSSRI Director, stressed the need for systems research in the region and how partnerships with centers ike CIMMYT have helped to successfully implement conservation agriculture, sustainable intensification and other practices. Sharma also described CSSRI's farmer participatory model, which provides farmers with land for cultivation against their annual compensation, thereby improving livelihoods.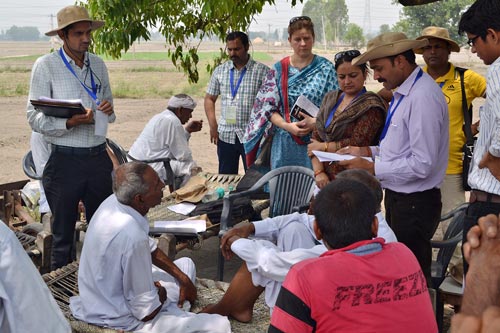 Workshop attendees participated in modeling, analysis and participatory exercises that helped them to better understand the challenges of technology adoption in the field. Participants also visited farms, where they learned farmers' needs first-hand and observed the complexity of different farming systems.
The workshop was supported by the CGIAR Research Program on Climate Change, Agriculture and Food Security (CCAFS), the Cereal Systems Initiative for South Asia (CSISA) and the Sustainable and Resilient Farming Systems Intensification in the Eastern Gangetic Plains (SRFSI) project of the Australian Centre for International Agricultural Research's (ACIAR). Other attendees included Mahesh Gathala, CIMMYT Cropping Systems Agronomist and SRFSI Project Leader; Jeroen Groot, Wageningen University Farming Systems Modeling Specialist; David Berre, CIMMYT Farming Systems Agronomist; Timothy Krupnik, CIMMYT Agronomist; and Alison Laing, Cropping Systems Modeler at ACIAR CSIRO Climate Adaptation Flagship.