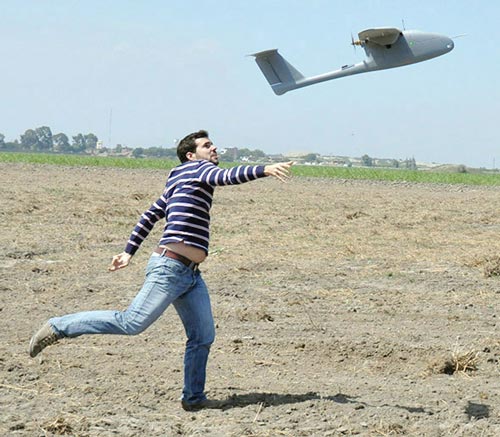 Training on the use of remote sensing from an unmanned aerial vehicle was given at INIAP-Peru's Vista Florida experiment station on 1-5 June 2013. The course was organized by INIAP, the University of Barcelona, Spain, and CIMMYT's regional office in Colombia. Remote sensing is used in precision agriculture and for phenotyping crops that are important for the region, such as maize, rice, and sugar cane.
Course participants included 44 representatives from the International Potato Center (CIP), the University of Talca (Chile), INIA-Peru, and Peru's Ministry of Agriculture, among other institutions. The course is one of several activities sponsored by the "Affordable field-based HTPPs" project led by José Luis Araus of the Department of Plant Biology of the University of Barcelona and funded by  CRP MAIZE. During the event, a phenotyping platform developed within the framework of the project was presented to INIA.
The director of the Vista Florida station, Miguel Monsalve Aita, opened the course, which was given by distinguished academics and scientists such as José Luis Araus; Pablo Zarco and Alberto Hornero from the Sustainable Agriculture Institute, Córdoba, Spain; Antón Hernández, president of AirElectronics, Madrid, Spain; Carlos Poblete, Claudio Balbotín, and Gustavo Lobos from the University of Talca, Chile; Hildo MacLean and Susan Palacios from CIP, and Luis Narro from CIMMYT's Global Maize Program.
The lectures focused on topics such as applying remote sensing in phenotyping; spectral and thermal remote sensing of stress from unmanned aircraft; image and data processing; use of software to process the gathered information; and thermal image analysis for diagnosing drought stress and controlling irrigation. In addition, Hildo MacLean showed how the Oktokopter–XL works. Luis Narro demostrated how to use the new version of the GreenSeeker for making recommendations on N application in maize and, Antón Hernández showed how the unmanned aircraft Sky Walker, which comes equipped with a flight programmer, an infrared camera, and a multispectral camera for collecting data, works. The aircraft used in the demonstration was donated to the Vista Florida station as part of the project's contributions.
Another essential part of the course was the intensive training on subjects such as platform management, flight programming, and downloading and processing information that was provided to a group of technicians from INIA and private seed companies. Also, Given that INIA technicians who are in charge of the platform need to become thoroughly familiar with it, three technicians from Vista Florida will go to Spain in September to take a course on processing and interpreting images.
The course organizers wish to express their appreciation to the Vista Florida Maize Program.