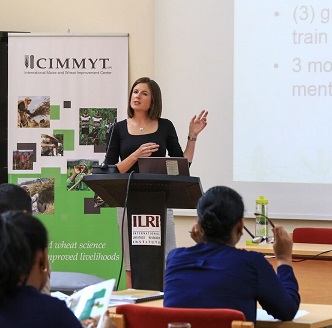 Researchers are changing rural development in Ethiopia by putting local communities in control of initiatives.
A project
funded by the
German Federal Ministry for Economic Cooperation and Development
is working to increase gender equality in wheat-based cropping systems in Ethiopia, Sub-Saharan Africa's
largest
wheat producer.
Kristie Drucza, a gender and social development research manager at the International Maize and Wheat Improvement Center (CIMMYT) and project lead, recently co-authored a report detailing how researchers can boost gender equality and reach program goals even faster by applying people-centered research methods in their work.
Traditionally, communities are not involved enough in development processes for researchers to offer permanent solutions. The seven methodologies laid out in the report use participatory methods, such as mapping exercises, to put people in control of the agenda.
"Program managers seem to be looking for ways to improve gender within their programs, these methodologies work and should be used more. Currently, non-government organizations implement these methodologies to change behaviors and gender norms, but the data is not collected. These methodologies generate a rich source of data that reveals how gender norms change and at what pace, this data could advance our understanding of how and why gender norms change."
Drucza tells us more about these methodologies and where they've been successful in the following interview: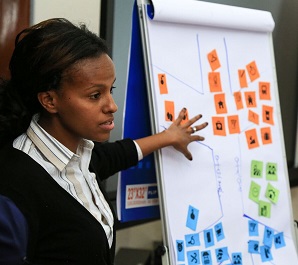 Q: What are 'participatory methodologies'?
Participatory methodologies are a collection of research tools or activities that are designed to get participants to think, learn, analyze and plan for action. They often use visioning exercises and diagram tools to enable participants to see the world in a new way, build empathy for those who are less fortunate and plan to change what they do not like.
One example from the Gender Action Learning System (GALS) methodology is a gender balance tree.
Each participant draws all the members of their household at the trunk, and the tasks family members do at the roots. The branches represent expenses and symbols are placed on the tree to show who owns what property and who makes which decisions.
The participants discuss any imbalances and draw an action plan to make the tree more balanced.
This exercise helps put a focus on gaps that are directly identified and agreed upon by families and helps illiterate people envision a future that they can control.
Q: How do these methodologies boost gender equality?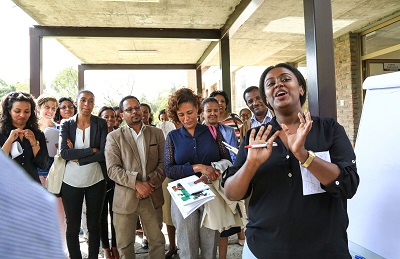 We collected data from four wheat-growing communities, and in one there was a really big difference in gender relations: in how people understood it, explained it and how equal their relations were.
We found out that this community was doing community conversations (CCs), a methodology that we identified as being very effective. This community was part of a health program that was using CCs, but it also had a positive and unintended impact on the agricultural sector by enabling women and men to work as one economic unit.
Usually, men make decisions without consulting their wives on things like household expenditure and which crops to grow. This can leave a wife having to secretly take from the harvest, or sell assets so that she can make ends meet. In the community where CCs were held, households worked better together to make more informed and transparent decisions that benefited the whole family.
Q: How does your project help boost gender equality?
The most important thing we need to realize is that gender equality doesn't just mean focusing on women, and doing so can actually create more inequality. We need to empower women but not at the expense of male sense of self and happiness.
Moreover, the social norms that underpin gender inequality need to be addressed for lasting change to ensue. Because these methodologies put communities in the driving seat, they deliver empowerment with community cohesion.
Learn more about the Understanding gender in wheat-based livelihoods for enhanced WHEAT R4D impact in Afghanistan, Pakistan and Ethiopia Project and read the full report "Gender transformative methodologies in Ethiopia's agricultural sector: a review" here.