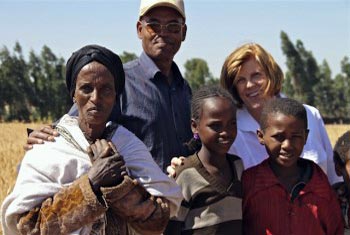 International Women's Day on March 8, offers an opportunity to recognize the achievements of women worldwide. This year, CIMMYT asked readers to submit stories about women they admire for their selfless dedication to either maize or wheat. In the following story, Linda McCandless writes about her Super Woman of Wheat, Jeanie Borlaug Laube, chair of the Borlaug Global Rust Initiative.
Jeanie Borlaug Laube has served as the chair of the Borlaug Global Rust Initiative (BGRI) since 2009, a year after it was first launched.
She is an enthusiastic proponent of wheat research and enjoins all scientists to "take it to the farmer."
She has helped build a community of wheat researchers and amplified their collective voice among politicians, policymakers, farmers, scientists and donors.
She is an influential advocate for wheat research and science. To mark the 100th anniversary of her father Norman Borlaug's birth, in 2013 and 2014 she visited Ethiopia, Kenya, India, Pakistan, Turkey, Mexico, Washington, D.C, and Minnesota, speaking at various political events as an ambassador for wheat, food security, and global cooperation. Additionally, she met with scientists, farmers and other leaders.
The late Borlaug, known as "the father of the Green Revolution" for the high-yielding, disease-resistant, semi-dwarf wheat varieties he developed, won the Nobel Peace Prize in 1970.
In 2009, she initiated the Jeanie Borlaug Laube Women in Triticum Award for young career scientists, and there are now 25 awardees who are changing the face of wheat research.
In 2010, she initiated the Jeanie Borlaug Laube Mentor Award for those scientists, male or female, who are valuable mentors of young wheat scientists.
For her enthusiastic, persistent and persuasive advocacy of wheat as one of the most important crops for global food security, I nominate Jeanie Borlaug Laube as a Wheat Super Woman.
Any views expressed in this article are those of the author and not of the International Maize and Wheat Improvement Center