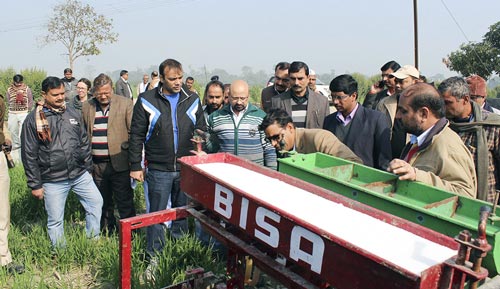 The Borlaug Institute for South Asia (BISA), CIMMYT and stakeholders are developing, adapting and spreading climate-smart agriculture technologies throughout Bihar, India. During the 2014-2015 winter season, BISA hosted visits for national and international stakeholders to view the progress of participatory technology adaption modules and climate-smart villages throughout the region.
"It is very encouraging to see the [BISA-CIMMYT's] trials of new upcoming technology…We will be ready to support this," wrote Dharmendra Singh, Bihar's Director of Agriculture, in the visitor book during a state agriculture department visit to one of BISA's research farms and climate-smart villages in Pusa. BISA, CIMMYT and the CGIAR Research Program on Climate Change, Agriculture and Food Security (CCAFS), in collaboration with local stakeholders and farmer groups, established 15 Borlaug climate-smart villages in Samastipur district and 20 in Vaishali district, as part of a 2012 research initiative to test various climate-smart tools, approaches and techniques.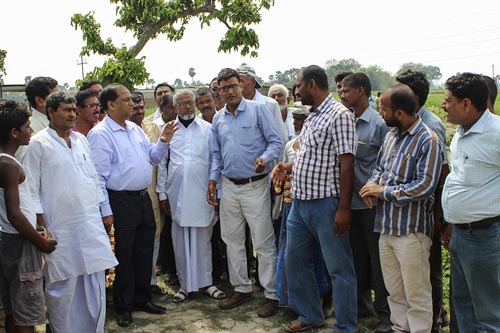 "I could understand conservation agriculture better than ever after seeing the crop and crop geometry in the field today," wrote Mangla Rai, former Director General of the Indian Council of Agricultural Research (ICAR) & Agriculture Advisor to the Chief Minister of Bihar. Raj Kumar Jat and M.L. Jat, CIMMYT cropping system agronomist and senior cropping system agronomist, respectively, showcased research trials on zero-tillage potato and maize, early-planted dual-purpose wheat, precision nutrient management in maize-wheat systems under conservation agriculture, genotype -by- environment interaction in wheat and crop intensification in rice-wheat systems through introduction of inter-cropping practices. Raj Kumar Jat also gave a presentation on how to increase cropping intensity in Bihar by 300% through timely planting and direct seeding techniques.
"Technologies like direct-seeded rice and zero-till wheat, which save both time and labor, should be adapted and transferred to Bihar's farmers," said Thomas A. Lumpkin, CIMMYT director general, at a meeting of the CIMMYT Board of Trustees with the Chief Minister of Bihar and other government representatives. "BISA is a key partner in building farmer and extension worker capacity, in addition to testing and promoting innovative agriculture technologies."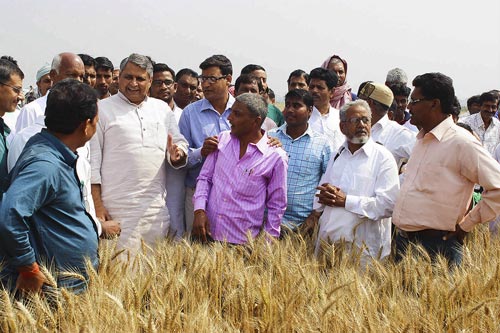 "State agriculture officials should support BISA to hold trainings on direct-seeded rice for fast dissemination across Bihar," agreed Vijay Chaudhary, Agriculture Minister of Bihar, at a BISA field day. Chaudhary along with 600 farmers and officials visited a climate-smart village where farmers plant wheat using zero tillage. Zero-till wheat is sown directly into soil and residues from previous crops, allowing farmers to plant seed early and to avoid losing yields due to pre-monsoon heat later in the season. Direct-seeded rice is sown and sprouted directly in the field, eliminating labor- and water-intensive seedling nurseries.
During the Bihar Festival, 22-24 March, BISA-CIMMYT showcased conservation agriculture practices and live demonstrations of quality protein maize-based food products, with over 10,000 famers and visitors participating. Vijoy Prakash, Agriculture Production Commissioner of Bihar, and other Bihar government officials discussed with farmers about new BISA-CIMMYT agriculture practices and emphasized the need to "introduce conservation agriculture in the state government's agricultural technology dissemination program." Prakash, along with government representatives, has approved two BISA proposals for a training hostel and research.