By Miriam Shindler/CIMMYT
CIMMYT's Wellhausen-Anderson Gene Bank sent its fifth shipment of seed to the Svalbard Global Seed Vault in Norway last week for safeguarding.
Thirty-four boxes containing about 420 kilograms of seed left from CIMMYT's El Batán headquarters on 7 February for the vault, which is deeply embedded in the frozen mountains of Svalbard. Isolated on the Norwegian Island of Spitsbergen, halfway between mainland Norway and the North Pole, the Global Seed Vault is keeping the genetic diversity of the world's crops safe for future generations by storing duplicates of seeds from gene banks across the globe.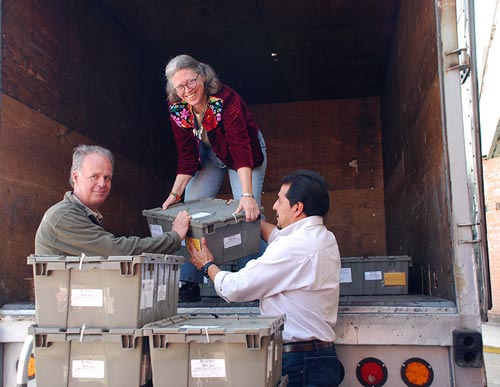 CIMMYT sent 1,946 accessions of maize and 5,964 of wheat accessions to add to that collection. Over the past several years, CIMMYT has sent 123,057 accessions of maize and wheat, which is essential for protecting valuable genetic diversity. CIMMYT is working with the Norwegian government and the Global Crop Diversity Trust, who manage the Global Seed Vault, to keep maize and wheat seed safe against a global catastrophe.
CIMMYT will continue to send backups of regenerated seed to Svalbard each year until its entire maize and wheat collection is represented in the vault, according to Denise Costich, head of the Maize Germplasm Bank. "Our goal is to have 100 percent of our collection backed up at Svalbard by 2021," she said. "We continually compile a list of accessions that still need to be backed up; these are new introductions or new regenerations of accessions with low seed count or low germination."
With more than 27,000 accessions of maize and 130,000 of wheat, CIMMYT's gene bank is a treasure chest of genetic resources for two of the planet's most important crops. Nonetheless, the Wellhausen-Anderson Gene Bank does not just help insure against seed loss – CIMMYT actively makes use of these collections, distributing seed, free of charge, to more than 700 partner organizations in almost every country across the globe.
In addition, through the Seeds of Discovery (SeeD) project, CIMMYT scientists are unleashing the genetic potential of thousands of landraces and improving understanding of traits utilized in current varieties. It is providing scientists and breeders worldwide with new building blocks to develop climate-smart varieties for resource-poor farmers that will safeguard valuable natural resources and provide affordable and more nutritious food to current and future generations.