In a September 12 visit to CIMMYT facilities on the agricultural research station of the Kenya Agricultural and Livestock Research Organization (KALRO) at Kiboko, Bram Govaerts, CIMMYT director general, extolled the longstanding partnership with KALRO and suggested creating a platform to speed access of national researchers to improved breeding lines and populations.
Located 155 kilometers southeast of Nairobi in a dryland area better suited to raising cattle, goats, sheep, and camels than row crops, the Kiboko station comprises more than 15,000 hectares, with controlled irrigation systems, and has allowed efficient selection for tolerance to drought and insect pests in Africa-adapted maize, as well as the development of dryland crops such as pigeon pea, sorghum and groundnuts.
"Our recent work where we open up our maize and wheat research platform for dryland crops highlights CIMMYT efforts to diversify cropping options for farmers in challenging settings, enhancing their livelihoods and farming system resilience," Govaerts said.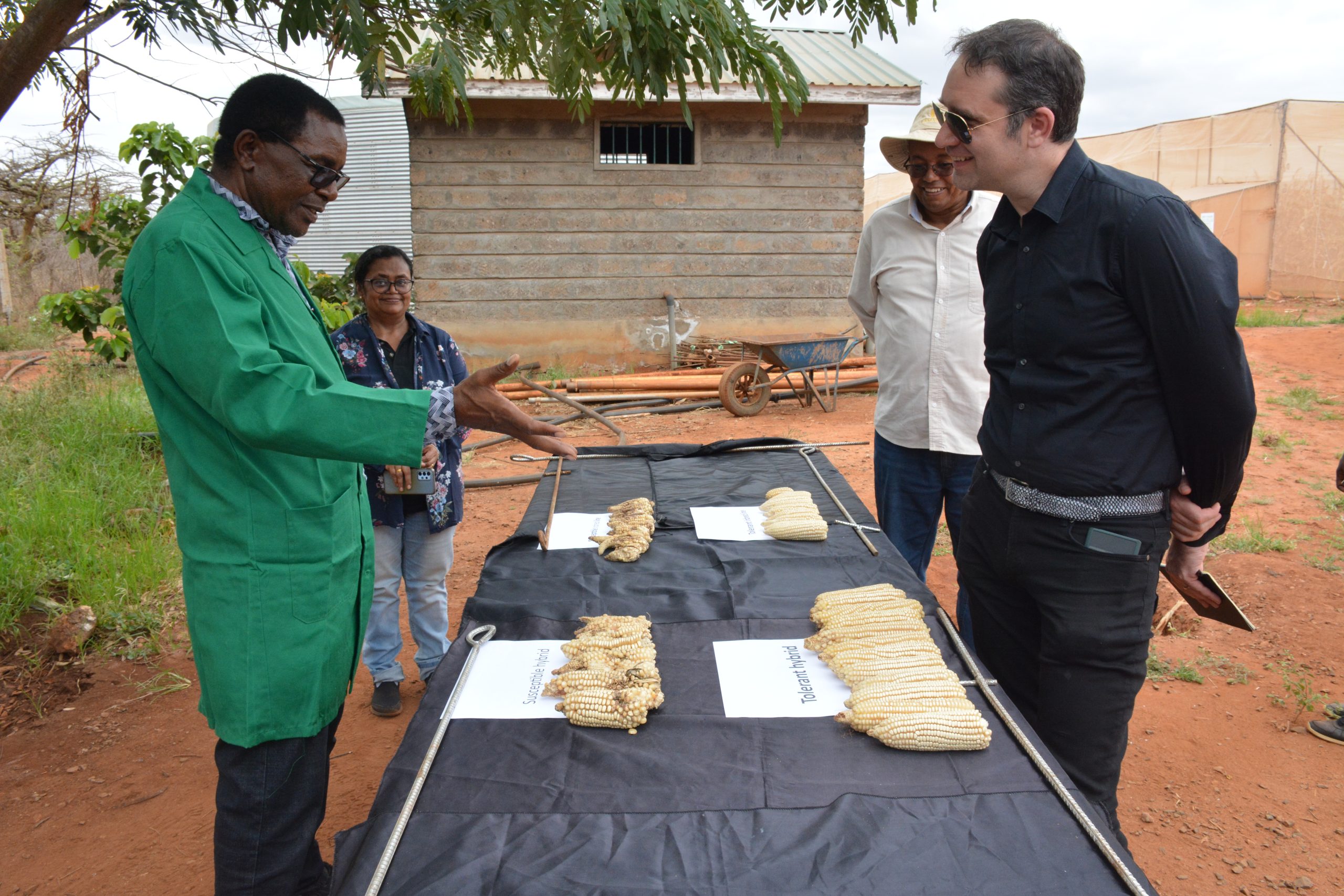 Yoseph Beyene, CIMMYT maize breeding coordinator for Africa, described collaborative efforts to speed the breeding and deployment of climate-resilient varieties. "This work covers maize breeding and seed system networks, participatory engagement with farming communities through on-farm trials, interactions and sharing with global partners, and documenting the adoption of stress tolerant maize in sub-Saharan Africa," Beyene explained.
CIMMYT data show that drought-tolerant maize varieties derived from shared research of the Center, CGIAR and partners are being sown on more than 6 million hectares in 9 countries of eastern and southern Africa, benefitting an estimated 38 million people and producing additional grain worth as much as US$1.5 billion each year.
Beyene added that the expansion of on-farm testing to over 1,000 locations in eastern and southern Africa has enabled CIMMYT to assess preferences and genotype-by-environment interactions which, along with support from the seed systems team regarding small-scale farmers' acceptance of drought-tolerant maize hybrids, have underpinned the development of successful hybrids.
A prominent stop on Govaerts's tour was the maize double haploid (DH) facility established in Kiboko in 2013, with funding from the Bill & Melinda Gates Foundation.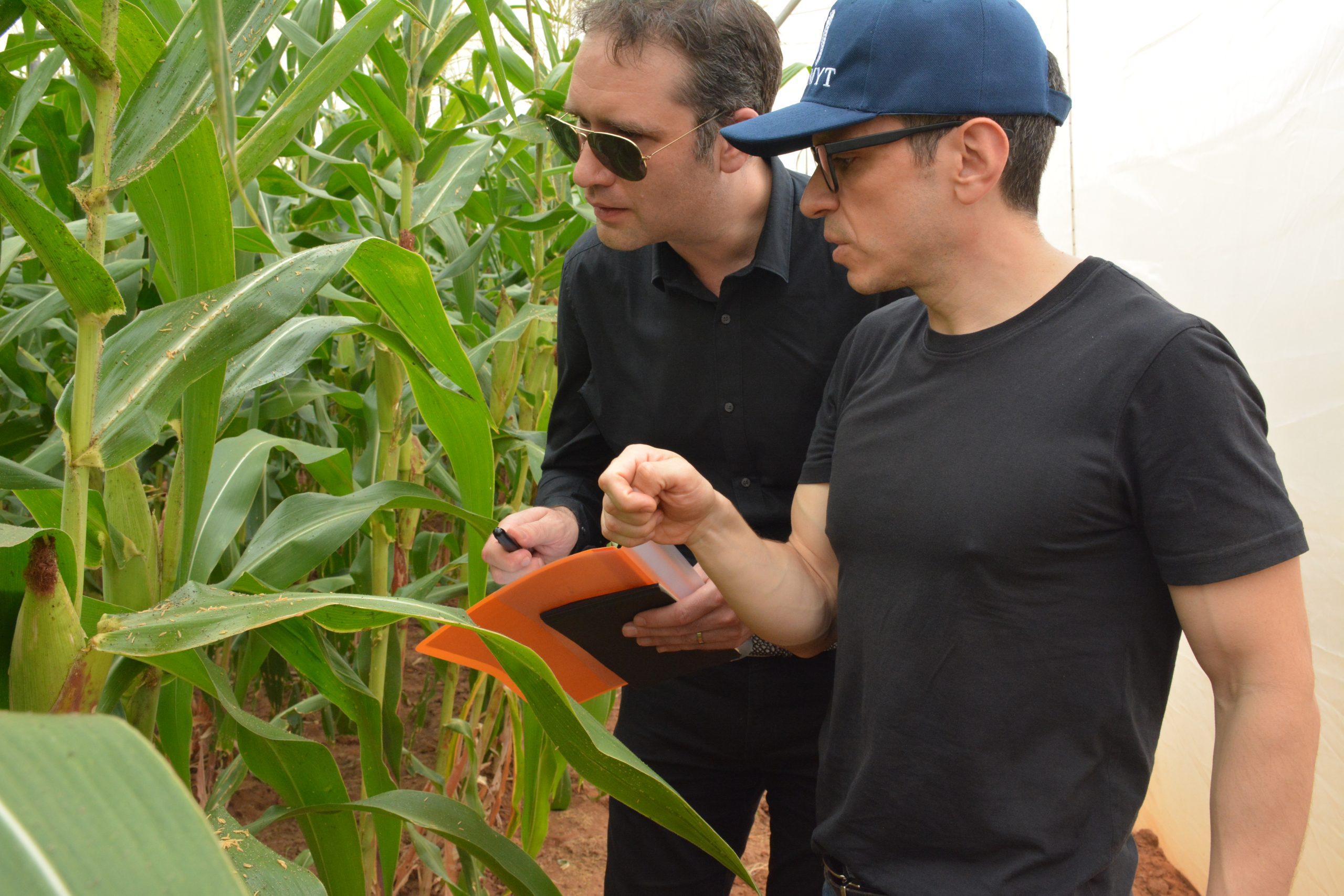 Long used by private seed companies, the double haploid approach generates inbred lines that are completely "homozygous," wherein genes on each pair of chromosomes are identical. It achieves this in a single year, compared to three to four years for conventional inbreeding, which can produce lines that may not be purely homozygous and are thus less useful for breeders.
"The facility offers double haploid line production services for organizations throughout Africa and is key to increasing genetic gains in maize breeding," said Aparna Das, technical program manager for CIMMYT's Global Maize Program.
Govaerts also visited the fall armyworm (FAW) artificial screening site and experiments in which CIMMYT scientists are evaluating five new FAW-tolerant experimental varieties for possible sharing with partners. In the fall armyworm screening facility, a team works to integrate and test ecofriendly crop management solutions against fall armyworm, critical research to safeguard agricultural production against this highly destructive insect pest.
"The excellent teamwork and facilities at Kiboko point up multiple opportunities for KALRO and CIMMYT to continue joint work that advances agricultural science to benefit farmers and consumers," Govaerts concluded.