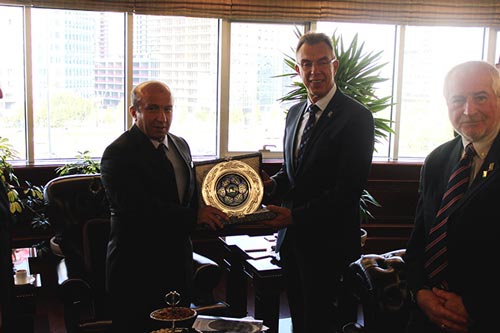 In October CIMMYT Director General Martin Kropff, BOT Chair John Snape, GWP Director Hans-Joachim Braun, and IWWIP Head Alex Morgunov were received by Minister Kutbeddin Arzu, who was accompanied by Masum Burak, Director General of Turkey's General Directorate of Policy and Agricultural Research.
Turkey-CIMMYT bilateral relations hark back to the 1980s, with the establishment of the cooperative winter wheat program, which has been highly successful in the areas of germplasm development, research, and variety release. The Cooperative Soil-Borne Pathogen program established in the early 2000s produced practical outcomes and developed into a recognized leader in its field. Turkey, as host country and partner, contributed substantially to its success. The results of this bilateral cooperation were discussed during the meeting with Minister Arzu.
Both Turkey and CIMMYT are driven by food security concerns and both contribute to enhancing crop production through the application of new technologies. There is great potential for future collaboration targeting maize germplasm development, conservation agriculture, and socioeconomic research. Minister Arzu and the CIMMYT delegation agreed to develop the vision and concepts that will define their future collaboration.