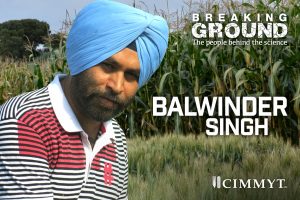 Breaking Ground is a regular series featuring staff at CIMMYT
EL BATAN, Mexico (CIMMYT) – Balwinder Singh uses crop simulation models to help smallholder farmers in South Asia prepare for future climates and unexpected challenges.
Despite improvements in agricultural technology in the past few decades, crop yield gaps persist globally. As climate patterns change, farmers are at risk of crop loss and reduced yields due to unforeseen weather events such as drought, heat or extreme rains.
Singh, a cropping system simulation modeler at the International Maize and Wheat Improvement Center (CIMMYT) based in New Delhi, India, uses crop simulation models—software that can estimate crop yield as a function of weather conditions, soil conditions, and choice of crop management practices—to develop future climate predictions that can help farmers reduce risk, overcome labor and resource constraints, intensify productivity and boost profitability.
"Using future climate data, simulation modelling allows researchers to develop hypotheses about future agricultural systems," said Singh. "This can help predict and proactively mitigate potentially catastrophic scenarios from challenges such as shrinking natural resources, climate change and the increasing cost of agricultural production."
A specific focus is on how to best quantify, map and diagnose the causes of the gap between potential yields and actual yields achieved by cereal farmers in the Indo-Gangetic Plain. "My research combines field experimentation, participatory engagement, and cropping systems modelling and spatial data to identify promising technologies for increasing crop productivity and appropriate geographical areas for out scaling," he said.
For example, Singh and a team of scientists have used simulation tools to find out why wheat productivity is low in the Eastern Gangetic Plains, for example, late sowing, suboptimal crop mangement and terminal heat stress. This process identified various potential techniques to raise wheat productivity, such as early sowing, zero tillage, or short duration rice varieties to facilitate early harvest and field vacation. Geospatial data and tools were used to identify the potential target zones for deployment of these promising technologies.
"The research is helping farmers increase agricultural productivity and to manage climate-related crop production risk and increase the use of agricultural decision support systems," Singh said. "My research towards improving cereal production systems in South Asia contributes to the knowledge, process understanding and modelling tools needed to underpin recommendations for more productive and sustainable production systems."
Growing up in rural India in a farming family, Singh viewed firsthand the uncertainty that smallholder farmers can face.
"I was brought up and studied in northwestern India – the region where the green revolution occurred known as the food basket of India," Singh said.
"I grew up playing in wheat and cotton fields, watching the sowing, growing and harvesting of crops, so an interest in agricultural science came naturally to me and I have never regretted choosing agriculture as a career."
While studying for his bachelor's and master's degrees in agronomy at Punjab Agricultural University (PAU) in Ludhiana, India, a chance encounter helped shape his career.
"Dr. Norman Borlaug came to PAU in 2005 and he happened to visit my field experiment on bed planting wheat. I had a very inspiring conversation with him which made me decide to pursue a career in agricultural research and work for the farming community."
Singh went on to earn a Ph.D. from Charles Sturt University in Australia through the John Allwright Fellowship funded by the Australian Center for International Agriculture Research (ACIAR). He started work for CIMMYT in 2013 as associate scientist based in New Delhi working with the Cereal Systems Initiative for South Asia (CSISA) project, which aims to improve food security and the livelihoods of more than 8 million farmers in South Asia by 2020.
Since 2014, Singh has led the CIMMYT participation in the  Agricultural Model Intercomparison and Improvement Project (AgMIP) as part of the Indo-Gangetic Basin team, conducting integrated assessments of the effects of climate change on global and regional food production and security, analyzing adaptation and mitigation measures.
Apart from collaborating with CIMMYT colleagues and other advanced research institutes from across the world to build weather and soil databases or working on simulation models, Singh enjoys interacting with farmers in their own fields and collecting data for crop simulation models to generate useable information for research and extension.
He also holds training sessions to aid in developing the capacity of CIMMYT's national agricultural partners in system simulation modelling to create awareness of the proper use of simulation tools for research and extension.
"The most rewarding aspect of my work is to see my simulation results working in farmers' fields," Singh said. "There's a proverb that says: 'When a person is full they have a thousand wishes, but a hungry person has only one.' There is no nobler task than that of being able to feed people. Some of us are not even aware of how many people are starving every day," he said.
"It gives me great satisfaction to be a part of CIMMYT, an organization that works beyond political boundaries to safeguard future food security, improve livelihoods and carry on the legacy of Dr. Borlaug who fed billions."