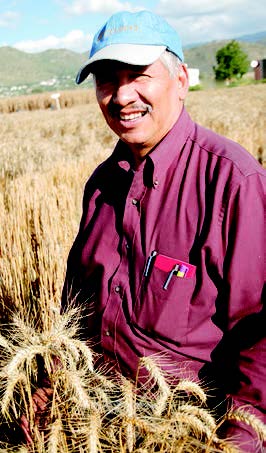 Wheat provides about 20 percent of the world's food calories. Growing wheat to maturity can be complicated by fast-spreading virulent diseases, which threaten production and land-shortage pressures.
Two among many wheat scientists in the wheat breeding program with the International Maize and Wheat Improvement Center (CIMMYT) near Mexico City, work to develop and fine-tune high-yielding, disease-resistant wheat varieties.
Ravi Singh head of CIMMYT's Global Spring Wheat Improvement Program and Julio Huerta, a rust pathologist, select the most desirable traits suitable for about 60 percent of the developing world's wheat growing area across various climates, environments and at risk of threats from diseases and pests.
Their understanding of the selection process evolved from nearly four decades of research, which began as they worked under the mentorship of Sanjaya Rajaram, the winner of the 2014 World Food Prize, at CIMMYT research stations in El Batan, Obregon and Toluca.
"As a teacher, Dr. Rajaram led us through the Socratic method of questioning to help young scientists observe, articulate and learn from what they saw in the wheat fields," Huerta said.
Inspired by what he refers to as the "freedom to flourish," through the process of asking and receiving answers to questions which inspired him, Huerta developed an eye for wheat selection and judicial elimination in wheat breeding ultimately becoming one of the top wheat curators in the world.
Over the years, as their skills developed, Huerta and Singh tested the theoretical basis for wheat improvement to help form an applied regime approach whereby the "laws" of science are evaluated in practice – in fields across the globe. This work led to their capacity to produce germplasm – or wheat material – which is ultimately distributed to government-run National Agriculture Research Systems (NARS).
"We develop a set of germplasm that is distributed globally," Singh said. "However, as we make distribution decisions, we evaluate the locations where these seeds will be grown prior to selecting appropriate traits suitable for specific contexts such as high-heat or early frost."
After receiving germplasm from CIMMYT, NARS work with local seed nurseries to consider which varieties would be best to grow, adapting recommended varieties to their local environment.
Scientists Singh and Huerta offer vital contributions to the ability of farmers to generate profits while strengthening food security by improving wheat productivity. A key part of this work involves replacing varieties susceptible to disease with durable resistant varieties that mitigate losses.
Over many years, CIMMYT has worked with hundreds of partner organizations and thousands of individuals; seed from CIMMYT's International Wheat Improvement Network has been delivered to 121 countries.