By Miriam Shindler/CIMMYT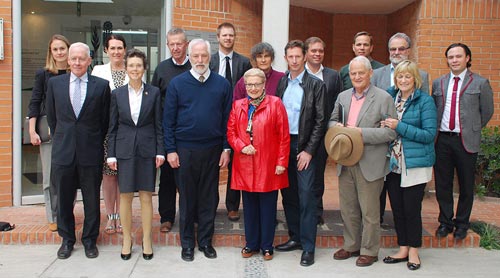 The Honorary Bronwyn Bishop, speaker of the Australian House of Representatives, commended CIMMYT's impressive achievements during a visit to the El Batán campus on 16 January. Bishop was accompanied by Tim George, the Australian ambassador to Mexico, as well as three other members of the House of Representatives and a member of the Senate.
In an engaging presentation, CIMMYT Director General Thomas Lumpkin captivated the delegation by showcasing CIMMYT's history and extensive agricultural research for development activities. The delegation was also impressed by CIMMYT's contribution to the Australian agriculture sector; 98 percent of Australian wheat is derived from CIMMYT parental lines. A 4.6 percent yield increase due to CIMMYT germplasm translates into additional annual income of up to AUD$ 250 million (US$ 219.8 million) for Australian wheat farmers.
The fruitful visit was an opportunity to strengthen the partnership between CIMMYT and Australia and to form future collaborative projects that will help both farmers in the developing world and in Australia. Australia is one of CIMMYT's strongest partners and collaborators. Institutions such as the Australian Centre for International Agricultural Research (ACIAR), the Australian Agency for International Development (AusAID) and the Grains Research and Development Corporation (GRDC) are working with CIMMYT to improve maize and wheat varieties for farmers in Australia and the developing world.