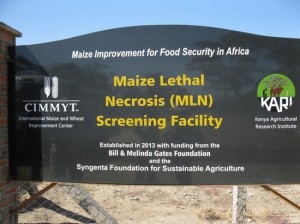 CIMMYT wishes to announce that the start of the planting season for the 2015A planting season at the KALRO–CIMMYT 
maize lethal necrosis
(MLN) artificial inoculation screening site at Naivasha, Kenya. Interested organizations from both the private and public sectors are invited to send their maize germplasm for screening. Planting is due to start at the end of May 2015 following an upgrade of the current irrigation system. Please note that it can take up to six weeks to process imports and clear shipments..
The MLN Screening Facility is the largest of its kind established in response to the MLN outbreak in eastern Africa in 2013. It supports countries in sub-Saharan to screen maize germplasm (hybrids, inbreds, and open pollinated varieties) against MLN in a quarantined environment. The facility is managed jointly by the Kenya Agricultural and Livestock Research Organization (KALRO) and CIMMYT, and was established with support from the Bill & Melinda Gates Foundation and the Syngenta Foundation for Sustainable Agriculture. Since its inception in 2013, the facility has evaluated more than 20,000 accessions from more than 15 multinational and national seed companies and national research programs.
For assistance in obtaining import permits and necessary logistics for the upcoming screening, please contact Biswanath Das
Tel: +254 20 7224600 (direct)
CIMMYT–Kenya, ICRAF House, United Nations Avenue, P.O. Box 1041–00621, Nairobi, Kenya.