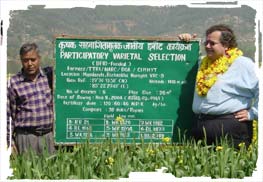 Now that all of CIMMYT's new program directors have been officially installed, it is time to get acquainted with them, as well as their ideas and plans for the programs. This month we feature Marianne Bänziger, director of the African Livelihoods Program.
She recently made history by becoming CIMMYT's first ever female director, yet Marianne Bänziger, director of the African Livelihoods Program (ALP), refers to herself as "a smallholder farmer at heart." Fortunate, then, that she heads a program with smallholder African farmers at its heart.
The ALP is one of CIMMYT's largest and most multifaceted programs, working in and for a continent where, despite strides in agriculture in the rest of the world, food security still eludes 150 million people. "African agriculture continues to struggle under the interrelated constraints in infrastructure, education, politics, policies, technology, and health issues," says Bänziger, speaking from nearly a decade's experience living and working in the continent. "However, through combined efforts, Africa could solve its food security issues, and even become a net exporter of goods originating from a vibrant agricultural sector," she says.
Bänziger has a track record of building strong teams from diverse quarters. She envisions the ALP as drawing on and focusing CIMMYT's maize and wheat expertise to improve the livelihoods of the smallholder farmer in Africa. "It's people who must power the process, so our program puts effective partnerships at the fore of its agenda," she says. She expects ALP impacts to show up soon in several key areas, including:
New maize varieties and production packages that stabilize and increase farm-level productivity, improve nutrition, help farmers deal with climate and market variability, add value, and replenish natural resources.
Partnerships with other researchers, farming communities, extension staff, policy makers and civil society at large to increase resource-poor farmers' access to input and produce markets.
An "honest broker" approach on genetically modified food crops.
True enhancement of Africa's human and institutional capacities.
After spending much of her childhood on a 14-hectare farm in the hills of her native Switzerland, Bänziger joined the Swiss Federal Institute of Technology, where she earned BSc, MSc, and PhD degrees, the latter in crop physiology in 1992. She joined CIMMYT as a postdoctoral fellow soon afterwards. In 1996, she was posted to the center's research program in Zimbabwe—the first female scientist of the organization to work in a regional program—where she launched the Southern Africa Drought and Low Soil Fertility (SADLF) project. As part of this, she coordinated the work of CIMMYT and partners to develop improved, drought tolerant maize varieties for small-scale farmers in Africa. Always keeping the small-scale farmer in mind, she fostered the adoption of new approaches whereby breeders replicate farmers' actual constraints on research stations and farmers take part in varietal testing and selection. The "stress-breeding" methodology and "mother-baby" participatory trials have spread to 16 countries in eastern and southern Africa. Most importantly, enough seed of the drought-tolerant maize, which yields 30% more than previously-sown varieties under dry conditions, has been produced to sow a million hectares in southern Africa alone in 2005.
Often asked whether gender has constrained her career, Bänziger responds philosophically: "As a newcomer in any field, you have to establish your credentials, irrespective of your gender. In Africa, I find myself in the company of many strong, high-ranking, and well respected women in various professions." This year Bänziger relocated to the CIMMYT-ALP office in Nairobi, Kenya. "Wherever I am, I will continue doing my bit to help smallholder farmers in Africa achieve their hopes for the future—a decent standard of living, a better life for their children, and independence from food aid," she says.