By Karen Willenbrecht/CIMMYT
Chinese scientists will have more opportunities to learn from and apply CIMMYT's research thanks to an agreement signed 16 June between CIMMYT and Yunnan Agricultural University.
High-level representatives from the university visited CIMMYT headquarters in Mexico as the first step in establishing a cooperative relationship that will benefit agricultural technology development in China's Yunnan Province a major agricultural area in the far southwest of the country.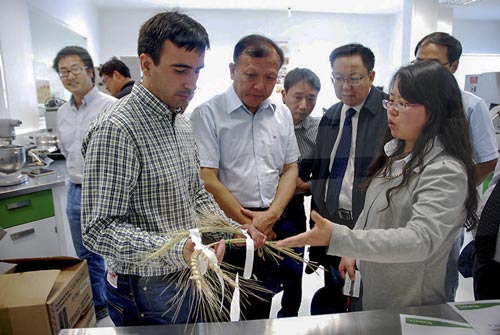 The province spans approximately 394,000 square kilometers (152,000 square miles) and has a population of more than 46 million. Zhang Haixiang, chairman of Yunnan Agricultural University, expressed eagerness to collaborate with CIMMYT in several areas, including an exchange program for young scientists and professors.
He noted that the climate in Yunnan Province is similar to El Batán's and hoped CIMMYT researchers could share their experience of breeding maize and wheat in that environment. He also invited CIMMYT leadership to visit the university, offering a personal tour of its cereal research programs, particularly as they relate to rice, maize and wheat. Marianne Bänziger, deputy director general for research and partnerships, told the delegates CIMMYT staff are interested in strengthening collaboration with China.
"There are more opportunities than currently taken for Chinese students or visiting scientists to gain experiences and contribute to CIMMYT research programs," she said. "We need champions with CIMMYT and Chinese institutions such as the Yunnan Agricultural University to create those opportunities where our interests align." A memorandum of understanding was signed by Bänziger and Wen Jun, the university's deputy chairman of academic affairs, that outlined the collaboration agreement.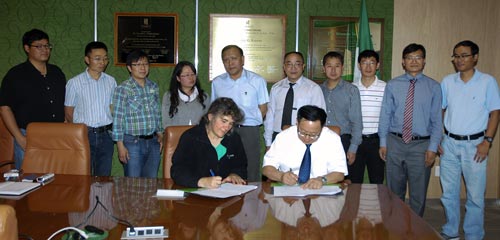 During their visit, the delegates met with Dr. Xuecai Zhang, a CIMMYT maize genomic selection breeder; Dr. Lan Caixia and Dr. Yuanfeng Hao of the Global Wheat Program; and Dr. Jiafa Chen of the Seeds of Discovery program. They also visited the Genetic Resources Center, the bioscience complex and the maize and wheat quality labs.
Yunnan Agricultural University is the only agricultural higher education and research organization in Yunnan. The university is home to a key national laboratory for rice biodiversity, a research institute for highland crop development and a rural development institute. CIMMYT has one staff member, Dan Jeffers from the Global Maize Program, based in Yunnan Province and has strong partnerships with the Yunnan Academy of Agricultural Sciences.