Hari S. Gupta was selected as the second Director General (DG) of the Borlaug Institute for South Asia (BISA) in India and assumed his new position on August 7th. BISA, named to honor Dr. Norman E. Borlaug (1914-2009), world-renowned agricultural scientist and 1970 Nobel Peace Prize Laureate, is helping to meet food security and sustainable productivity growth in both irrigated and rain-fed production areas by adapting wheat and maize systems to the emerging challenges of climate change, natural resource scarcity and market demands. While working at CIMMYT and its predecessor organization, Borlaug's development of high-yielding, dwarf varieties of wheat helped trigger the Green Revolution in the 1960s. BISA was established in 2011 to catalyze agricultural research for development (AR4D) in South Asia and is a non-profit international agricultural research institute founded by the Indian Council of Agricultural Research (ICAR) and CIMMYT, and managed by the latter.
According to Thomas A. Lumpkin, CIMMYT Director General, who also served concurrently as the first DG of BISA, "The challenge today is to increase yields of staple crops in South Asia despite the fact that climate change, population growth, dietary changes and natural resource degradation all pose enormous challenges to agriculture." BISA was created to "address the challenges head on," added Lumpkin. Providing food and nutritional security is "a daunting task" and the region needs "a dedicated, world-class effort focused entirely on these problems." Lumpkin stated, "To lead BISA's work on those problems, Dr. Gupta was chosen from a field of very qualified candidates. We anticipate that he will be a very strong DG for BISA and will lead it into its next phase."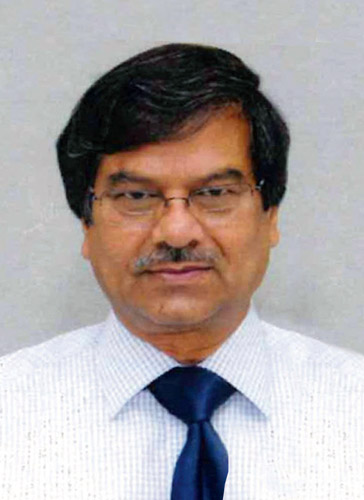 Prior to joining BISA, Gupta served for almost five and one-half years as Director and Vice Chancellor of the Indian Agricultural Research Institute (IARI), one of the largest agricultural research institutes in Asia. With 10 centers spread across India, IARI is the flagship research institute of ICAR and is known globally as the institution that was instrumental in spreading the Green Revolution across India. During the Green Revolution, Borlaug and regional scientists, policymakers and farmers in South Asia took India and Pakistan from near-famine in 1965-1966 to food self-sufficiency. Dr. Borlaug's work in AR4D is credited with saving 1 billion people from hunger and malnutrition, and many were in South Asia. However, Borlaug correctly predicted that the Green Revolution boost in food production could not last, and was only a reprieve for humanity to adapt more sustainable systems and policies for managing population growth and use of natural resources.
Describing the goals he will focus on as DG of BISA, Gupta stated, "In order to usher a second Green Revolution in South Asia, improving crop productivity in conjunction with efficient use of natural resources – especially of soil and water – will be my top priority. In addition, reducing the vulnerability of South Asian agriculture to climate change will be addressed with an emphasis on reducing greenhouse gas emissions." Climate change, ever-increasing population, persistent poverty, chronic malnutrition and declining annual crop yield gains are retarding human development across South Asia.
Despite notable progress over the past several decades, South Asia is still home to more than 300 million undernourished people (35 percent of the global total). Food price spikes exacerbate these issues and make the lives of South Asia's poorest even more difficult. Because of these issues, Gupta said, "Increasing the system productivity per unit area and time with conservation of natural resources is BISA's guiding principle. Development of technology for rain-fed areas will receive priority whereas sustaining the gains made in irrigated areas will help in meeting the region's short-term needs for food and feed." He continued, stating, "In order to make agriculture more efficient in South Asia, mechanization – particularly using renewable sources of energy in farm operations – will be pursued vigorously. My experience at IARI will help me to work with others to implement the programs rapidly and efficiently." Prior to joining IARI, Gupta worked for a number of agricultural research organizations, including serving as: director, Vivekanand Institute of Hill Agriculture, or VPKAS (2000-09); principal scientist and head of the Division of Plant Breeding, ICAR Research Complex for NEH Region (1989-99); senior scientist, ICAR Research Complex for NEH Region (1983-89); and scientist, Central Potato Research Institute (1978-83). Gupta earned his M.Sc. in genetics at GB Pant University of Agriculture & Technology in Pant Nagar, India. He earned his Ph.D. at the Indian Institute of Technology, Kharagpur, West Bengal.
Among the highlights of his post-doctoral research are: Rockefeller Foundation Career Fellow in 2003 and 2006 at Washington State University (WSU) on the genetic engineering of rice for increasing starch biosynthesis; visiting scientist at WSU, working on the induction of early flowering in crop plants in 1993-94; and Commonwealth Scholar in the Department of Life Science at the University of Nottingham (UK) on plant regeneration from protoplast and protoplast-mediated genetic manipulation in rice in 1987-88. Among the honors and recognition that Gupta has received during his career are: President, Indian Society of Genetics and Plant Breeding (2011-13); Sardar Patel Outstanding Institution Award to IARI during his tenure (2011); ICAR's Team Award for Outstanding Multidisciplinary Research (2010, 2008 and 1997); Dr. AS Cheema Award for Outstanding Contribution to Indian Agriculture (2010); Outstanding Institution Award to VPKAS (2008 and 2001) during his tenure as director; ICAR "Hari Om Ashram" Trust Award (2007); NRDC's Meritorious Invention award (2006); ICAR National Professor (2006); Dr. Rajendra Prasad Award for Best Book in Crop Sciences (2004); and Rockefeller Foundation Career Fellowship (2000). Gupta belongs to numerous professional societies, including: Indian Society of Genetics and Plant Breeding; Fellow, National Academy of Agricultural Sciences; Fellow, Indian Society of Genetics and Plant Breeding; Fellow, Indian Society of Agricultural Biochemists; founding member, Society for Plant Biochemistry and Biotechnology; and life member of the Indian Societies of the Biological Chemists, Genetics and Plant Breeding, Hill Agriculture and Seed Science.
About BISA
BISA is developing a state-of-theart agricultural research platform, technology transfer centers and training facilities. BISA's focus is on holistic, interdisciplinary and collaborative approaches to breeding, conservation agriculture and socioeconomics for wheat- and maizebased cropping and food systems. BISA's facilities and formal institutional partnerships can create a world-class research infrastructure and lead to strategic collaborations among regional and international scientists, as well as public and private stakeholders across the region's agricultural value chains.
The Institute closely coordinates and synergizes with CIMMYT and other international centers such as the International Rice Research Institute and the International Crops Research Institute for the Semi-Arid Tropics, with national institutions such as ICAR, the Pakistan Agriculture Research Council and the Nepal Agriculture Research Council and the private sector within the region. BISA currently has three sites in India – Ludhiana in Punjab State, Pusa in Bihar State and Jabalpur in Madhya Pradesh State. Each of the states contains varied agro-ecological zones allowing BISA and its partners to test a variety of maize and wheat cultivars suited to the equally varied environments of South Asia. BISA also has site commitments from Nepal and Pakistan and is in discussion with Afghanistan and Bangladesh for sites in those countries. Through BISA, CIMMYT and several national agricultural research systems (NARS) have taken a key step towards sustainable food and nutritional security.
CIMMYT has a long, successful history of partnerships in South Asia, playing an important role with regional partners in catalyzing the Green Revolution. The NARS have demonstrated their commitment to regional food and nutritional security, and recognized the contribution that BISA, an independent, non-profit organization with broad international backing, can make to strengthen existing efforts in the region. BISA's role in strengthening South Asia's food and nutritional security focuses on leveraging and accelerating efforts rather than duplicating or competing with existing institutions. BISA fills the most critical gap in present efforts in South Asia – an impartial coordinating platform for discovery and sharing information and technologies.
BISA's primary focus is to strengthen capability-sharing through the collaborative execution of AR4D projects. This increase in resource productivity should increase food and nutritional security, environmental protection and economic development. BISA is also strengthening the links between national and international efforts, building capacity in the region's scientific community and introducing the best seed, agricultural technologies and information to improve the productivity and profitability of the region's smallholder farmers and agricultural value chains.