EL BATAN, Mexico (CIMMYT) — Despite over a decade of implementing policies and programs to promote gender equity in research, some countries have seen careers for women in science, technology, engineering and math (STEM) stagnate and even decrease in some fields.
Research indicates that women start out in equal numbers to their male colleagues – even outnumbering in some cases – while pursuing undergraduate and graduate degrees in STEM fields, but drop off at the doctoral level and even more at the research level, with men now representing 72 percent of the global research pool.
"The age at which many pursue or complete a doctoral degree often coincides with the time people start thinking about having children," said Denisse McLean, an agrobiodiversity doctoral student at the Scuola Superiore Sant'Anna in Pisa, Italy, who is conducting research at the International Maize and Wheat Improvement Center (CIMMYT) headquartered near Mexico City. "I knew after my master's I wanted to do my doctorate right away because I know once I have kids, I won't have as much flexibility."
"A number of my male classmates study abroad while their spouses are at home with their kids," McLean said. "In contrast, none of my female classmates have children. I would not be able to travel and work long hours like I do now if I had children of my own."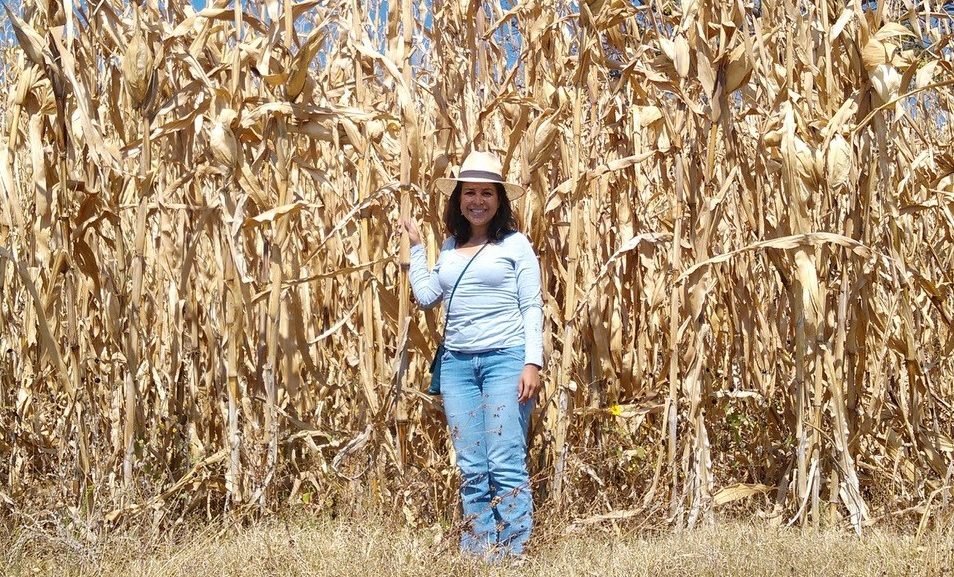 McLean refers to a "maternal wall" which results from expectations that a woman's job performance will be affected by her taking a leave of absence to have children, or by absences from work to take care of family.
The work environment of a lab or lecture hall frequently does not allow flexibility for child leave or care. Since most women still assume the primary caregiver role regardless of where they live in the world, in heterosexual couples this often results in the woman's career lagging, not her male partner's.
"I never had maternity leave," said Denise Costich, senior scientist and head of CIMMYT's maize germplasm bank, now over three decades into her career. "There were no provisions in my contracts, either as a graduate student or a postdoctoral researcher, to cover this. I took vacation time to give birth. When my first child was born I took her to the greenhouse with me to check on my experiments, when she was under a week old."
Costich, who lovingly refers to her three children as her "grad school baby, thesis baby and post-doc baby," pursued a career in ecological research while raising three kids, at times requiring the deployment of innovative problem-solving skills, including strapping baby seats to lab carts or her baby to her own body in the field. It was at times a challenge to meet the competitive requirements of a career in science, particularly on one occasion when she had to rush to a job interview, just two weeks after giving birth.
According to Costich, tenure positions at any institution can require 80 to 90 hours of dedicated attention a week. Young researchers are also expected to spend 80 to 120 hours a week in the laboratory, putting women with children at an immediate disadvantage.
"I've always worked and I've never stopped because I know when you 'take some time off,' you fall behind, especially in science where the technology changes so quickly," Costich said. "You get out of the loop and are at an extreme disadvantage trying to play catch up with your career."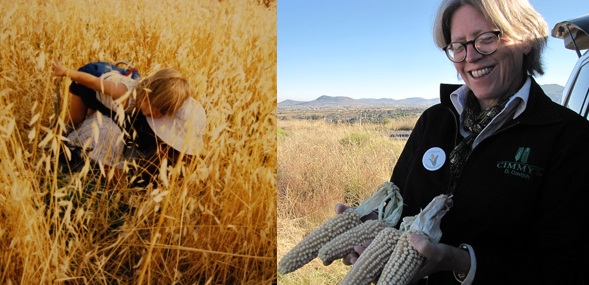 Both Costich and McLean credit strong support networks for their success, but acknowledge structural changes are needed throughout the research system. Such countries as the United States, that don't guarantee paid maternity leave or sufficient support for child care must also re-orient their national policies to support working women, Costich said, making reference to her country of origin.
"I was able to make tweaks to the system and keep going, but I know a lot of people who had to give up," Costich said. "We need to get more women who have gone through these experiences in higher level positions so that we can make effective policy changes."
Child rearing isn't the only time women leave their careers to serve as caregivers. Research shows that women also tend to be more likely to take family leave to care for parents, grandchildren and other relatives and were significantly less likely to be employed than their peers, whereas men who take on care giving roles experience no change in employment status.
Reformation of the institutionalized culture and processes that "penalize" a woman for having a family life is vital to ensure more women can have meaningful STEM research careers. Changing generally accepted hiring criteria and accepting flexible work arrangements, publication and research schedules are some of the methods that can help ensure women and men who interrupt their career for family leave will not jeopardize their future careers.
All institutes that are serious about increasing the number of women in their ranks should take these and other steps to remove barriers to women in science, such as bias in the hiring process and peer review, if they want to conduct more effective research.