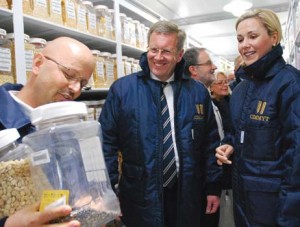 The long-standing and fruitful relationship between Germany and CIMMYT received a boost on 01 May 2011 when, as part of an official tour of Latin America, the President of the Federal Republic of Germany, Christian Wulff, visited CIMMYT headquarters to learn more of the center's work and discuss strengthened partnerships. President Wulff was accompanied by his wife, Bettina, and nearly 60 distinguished guests including German vice ministers and members of parliament, embassy personnel, and business and media representatives. Greeting the guests were CIMMYT Director General Tom Lumpkin and several of the center's German and German-speaking staff.
After touring the main exhibition hall showcasing Dr. Norman Borlaug's achievements and contributions to agricultural development, including his Nobel Prize of 1970 and the Aztec Eagle of the same year from Mexico, the entourage attended a presentation by Hans-Joachim Braun, Director of CIMMYT's Global Wheat Program. The talk addressed food security and related constraints—climate change, the rising demand for grains, the increasing scarcity of resources like land, water, and fertilizer—as well as CIMMYT's work in the developing world and its relationship with Germany, a long-term and significant supporter of the center. To name just a few examples, German contributions have funded work on stress tolerant maize for Africa, a regional wheat network for Central Asia, and wheat pathology research for South Asia. German staff at CIMMYT and our partnerships with German universities and institutes have been of enormous value in getting improved technology to farmers.
The whirlwind tour then moved to the seed bank, with exhibitions of maize and wheat genetic resources outside and a visit inside to the upper seed storage chamber. In an impromptu closing statement, President Wulff thanked CIMMYT and described his positive impression of the visit and Braun's presentation, which he called one of the clearest and most fact-based he had ever heard. Reports on the visit in the German media have referred to CIMMYT as a "highly-regarded research center."
In addition to Lumpkin and Braun, CIMMYT staff interacting with the guests included Marianne Bänziger, deputy director general, research and partnerships; Scott Ferguson, deputy director general, corporate services; Peter Wenzl, head of the crops research informatics lab; Susanne Dreisigacker, molecular biologist and head of marker applications in wheat; GIS expert Kai Sonder; agricultural economist Tina Beuchelt; Marc Rojas, coordinator of the International Strategy for Maize Improvement; and Petr Kosina, assisting with the event management.
Click here to view/hear…
A factsheet on Germany & CIMMYT
Selected photos of the visit