From SciDev.Net: Root-imaging technology could improve crop resilience
By Aleida Rueda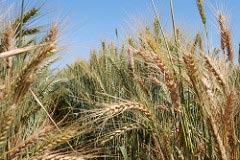 [MEXICO CITY] Mexican researchers have welcomed a breakthrough in imaging plant roots, saying it could help breeders develop new varieties of crops that can thrive in harsh conditions.
The technique uses X-ray computed tomography to build up a three-dimensional image by scanning through 360 degrees, a technology commonly used in hospitals to diagnose soft tissue damage.
Scans of plant roots in soil show the shape and branching patterns of the roots, but do not clearly distinguish between the roots and surrounding soil and organic matter.
Now scientists at the Centre for Plant Integrative Biology (CPIB) at the University of Nottingham, United Kingdom, have developed imaging software — called "RooTrak" — to analyse the scans and display the roots as a distinct three-dimensional structure. Their findings are reported in the February issue of Plant Physiology.
"This is the first time this approach has been used for this purpose and the results are very promising," Malcolm Bennett, the project's leader, told SciDev.Net.
As well as providing clearer imaging, the method is fast and non-invasive because roots can be analysed without having to remove the surrounding soil. The technique has passed initial tests on maize, tomato and wheat grown in a range of contrasting soil textures.
The CPIB has been awarded US$4.5 million by the European Research Council to test the technology in Australia, Europe and Mexico.
The Mexican collaboration is being coordinated by the International Maize and Wheat Improvement Center (CIMMYT), which plans to use the technology to screen wheat for a variety of traits including heat and drought tolerance, and water and nutrient use.
While the technology was welcomed by researchers contacted by SciDev.Net they all expressed concern that it might be too costly for widespread adoption in developing countries.
But the technology could benefit plant breeders, according to Matthew Reynolds, a wheat physiologist at CIMMYT in Mexico who will oversee the collaboration.
"This technique will open enormous possibilities for understanding the interaction between trees and annual crops [such as maize and beans] at the level of their root systems, particularly under conditions of drought and root competition between species," said Antonio Turrent Fernández, of Mexico's National Institute of Agricultural, Livestock and Forestry Research (INIFAP).
Alejandro Espinosa Calderón, also from INIFAP, said the technology "could help [researchers] select plants with favourable root architecture, shape, depth and size that could thrive in adverse conditions".
REFERENCES: Plant Physiology 158, 569 (2012)