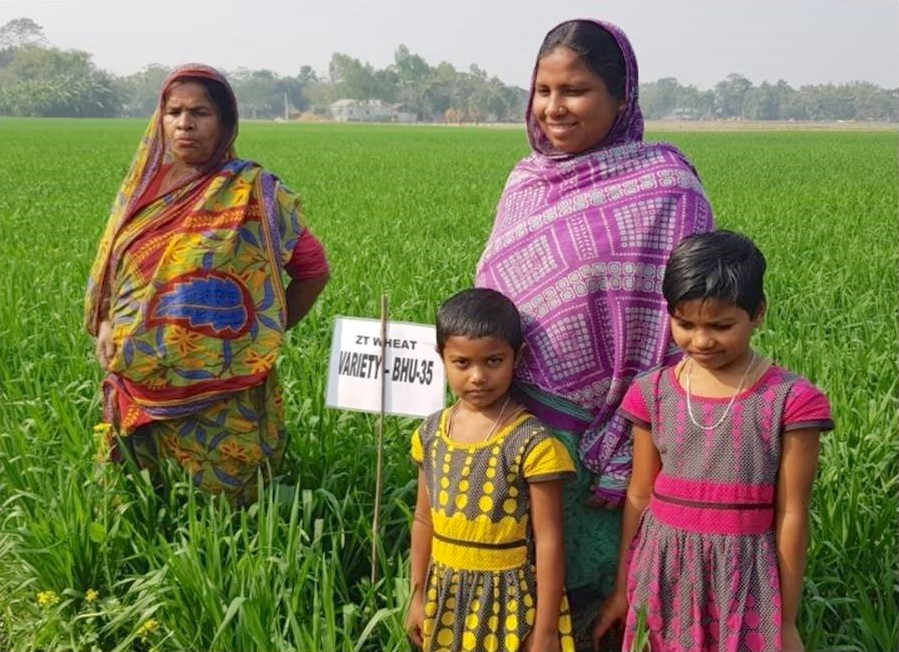 Hosneara Bibi is a farmer in the village of West Ghughumari, in the Cooch Behar district of West Bengal, India. She began her journey as an agricultural entrepreneur two years ago, when members of the nonprofit Satmile Satish Club o Pathagar (SSCOP), a CIMMYT partner, first came to her village.
Their visit was part of CIMMYT's Sustainable and Resilient Farming Systems Intensification (SRFSI) project. This project aims to reduce poverty in the Eastern Gangetic Plains of Bangladesh, India and Nepal by making smallholder agriculture more productive, profitable and sustainable while safeguarding the environment and involving women.
In the context of the SRFSI project and in collaboration with Godrej Agrovet, Bibi and her self-help group received training on conservation agriculture practices for sustainable intensification. Self-help groups are small associations, usually of women, that work together to overcome common obstacles. With support from SSCOP, Bibi's fellow group members learned about a variety of improved agricultural practices, including zero tillage, which improves soil nutrient levels and water efficiency. This support helped them to increase their crop yields while promoting sustainability.
After adopting the improved practices, Bibi increased her wheat yield by 50 percent. This positive experience encouraged her to implement mechanically transplanted rice technology. Bibi and her self-help group have since started a rice seedling enterprise and they offer their mechanically transplanted rice services to other farmers. This has become a profitable agri-enterprise for the group.
Bibi has been able to expand her farm and now cultivates wheat, rice and jute. She has also adopted digital technologies in her farming practice and now uses a mobile app to aid in pest management for her rice crop, designed by Uttar Banga Krishi Viswavidyalaya.
Because of her higher yields and the profitability of the self-help group's rice seedling enterprise, Bibi has successfully increased and diversified her income. Her proudest moment was when she was able to buy a motorbike for her husband.
Members of the SRFSI team consider Hosneara Bibi a role model for other farmers and entrepreneurs in her community.
The Sustainable and Resilient Farming Systems Intensification project is funded by the Australian Centre for International Agricultural Research.