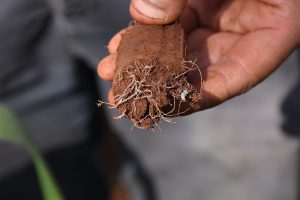 SIAYA, Kenya (CIMMYT) — Every planting season presents a different kind of challenge for smallholder farmers, and for those in Siaya's Alego sub-county in Western Kenya, the nightmare of a recurring crop-killing weed is all too real. Known by its local name kayongo, the Striga weed is one of the leading causes of crop loss, a significant dent to farmers' livelihoods and major hindrance to food security in the area.
Over 20 million hectares
(ha) of crop land in sub-Saharan Africa is
Striga
-infested, resulting in a whopping $ 1 billion in annual yield loss, affecting more than 100 million people. Over 1.4 million ha of East Africa's farmland is affected by
Striga
, with over 340,000 ha of farmland affected in Kenya alone.
Striga, also referred to as "witch weed," damages the crop long before it appears above ground, adding to its destructive qualities, further complicating its management. This parasitic weed attaches itself to the roots of host plants – usually cereals like maize and sorghum – then extracts essential nutrients and moisture meant for growth, causing stunted growth and crop loss. Once above ground, the Striga flower produces between 50,000-200,000 seeds, which are released into the soil and triggered to germinate when close to potential host crop roots. In the absence of host crops, the seeds remain dormant in the soil for over 20 years, only to attack in subsequent maize planting seasons when conditions become favorable.
Early signs of Striga infestation in maize include folded leaves and wilting, even when there is sufficient soil moisture. Ironically, the appearance of Striga's beautiful purple flowers at full bloom signals the impending death of the affected maize plant.
Striga is especially prevalent in low soil fertility environments where insufficient use of agricultural inputs such as fertilizer, and cereal mono-cropping is evident. Kenya's lake region is most affected, with at least nine species of Striga been reported in the country and Striga hermonthica – considered the most lethal of them all – is widespread in densely populated regions.
For decades, hand weeding or pulling has been practiced as a method for Striga control, however this is very labor intensive, translating to huge costs for the farmer, and is not minimally effective since damage is caused at the root of the plant.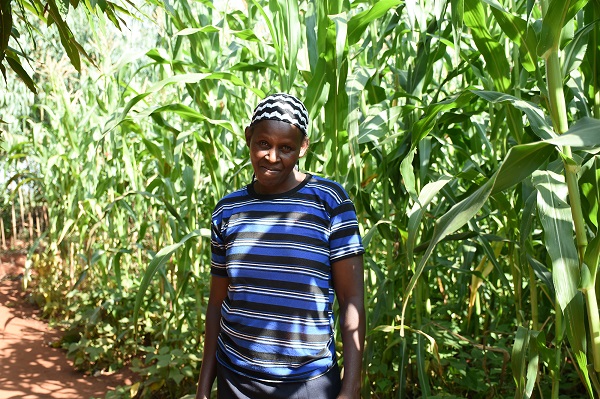 So, what hope is there for farmers in Striga-prone areas?
Inter-cropping, which is the simultaneous planting of two or more crops in the same field, is one of the most widely practiced Striga control measures.
"Unlike cereal roots, legume roots do not stimulate weed growth, so even though Striga seeds will remain in the soil, growth will not occur," according to Leonard Rusinamhodzi, an agronomist with The International Maize and Wheat Improvement Center (CIMMYT), who says that growing legumes alongside maize reduces the emergence of Striga.
"On the other hand, legumes like cowpea are called trap crops because they stimulate growth of Striga, but the weed has no roots to attach to, and subsequently dies. Legumes also fix nitrogen into soils, a deterrent for Striga, which thrives in low nitrogen environments," says Rusinamhodzi.
Two years ago, Hellen Akinyi Owino, a farmer and mother of six had given up on maize farming following consistent poor yields from her Striga-stricken farm. Even when the rains stopped mid-season, she expected to harvest up to eight 90-kilogram bags from her 0.8 ha plot, but with Striga choking up her crop, she just harvested just one bag. With her family's livelihood in jeopardy, Owino was forced to seek alternative income generating activities. She stripped her plot of all maize and Striga plants, and put up a tree nursery instead, from which she makes money selling seedlings.
"I am a maize farmer first, so I had to figure out a way to get back to it while reducing losses from Striga," Owino shares, adding, "I learned about intercropping from an extension agent and decided to try it out on a small plot, before planting in the larger plot." For two years now she has planted beans alongside maize, consistently applying organic fertilizer, and stuck to a regular weeding schedule.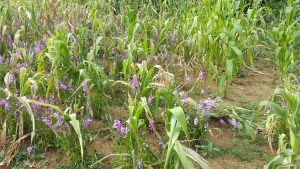 Another even more effective solution to Striga is planting herbicide-resistant maize.
StrigAway™, or Ua Kayongo as it is known in Western Kenya, is described on Feed the Future's Partnering for Innovation website as an Imidazolinone-Resistance (IR) maize technology package, comprising conventionally bred herbicide resistant maize varieties and Imazapyr seed treatment, an herbicide seed coating.
Since herbicide is applied to the seed coat, the recommended effective dose for controlling Striga is low, which is both environmentally friendly and affordable. Moreover, the herbicide dissipates easily from the soil before the next planting season, without any effect on subsequent crops.
However, if farmers were to recycle the seed, they would need to coat it again with the herbicide to control Striga, a practice which is neither feasible nor advisable at the farm level. Another challenge to uptake is that the IR maize starts off poorly, often looking as if it is nitrogen deficient, and may discourage farmers from taking up IR technology.
CIMMYT and partners' efforts towards Striga management include both good agronomic practices and promotion of herbicide-resistant maize. So far, 12 herbicide resistant varieties have been released in East Africa, and seven hybrids released in Kenya and Tanzania. On-farm experimental trials give farmers first-hand experience of how these varieties perform, and hope that the lethal weed will be contained.