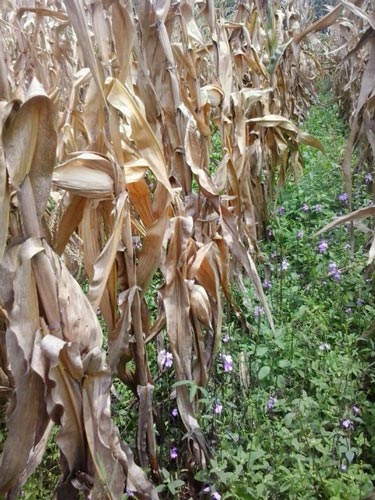 In Tororo, Uganda, farmers have been losing most of their maize crop to witchweed. However, they now feel that there is hope as research by CIMMYT and its partners is pro viding a solution. During a recent field day in Tororo, farmers Selina and Charles Emoit hosted their peers at an on-farm demonstration of 15 improved maize varieties. Farmers had the opportunity to observe the trial and select the best performing varieties.
Having planted the maize coated with the chemical imazapyr, Selina said she had seen wonderful results on her farm. Previously, the couple would get almost nothing from the farm as a result of Striga infestation. "What used to be seen from my farm is not what is seen today," said Selina expressing her joy at being able to save her crop. To ensure that the experiment was successful, Selina explained that they had a different person planting each plot to avoid mix-ups; after germination, some variations were observed on the crops in the field. "Despite all the variations, each one of them has a cob which is better than what I used to get," said Selina urging fellow farmers to collaborate with researchers to ensure good yields. Selina thanked all the Striga project collaborators who had collectively made it possible to fight the weed on her farm.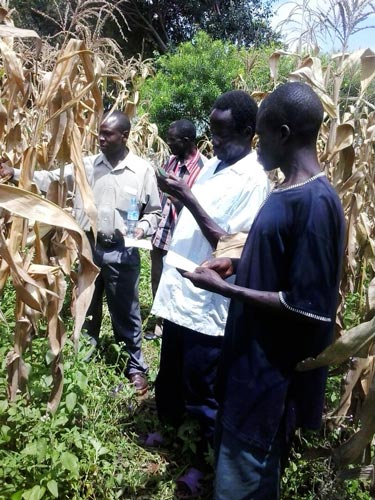 The field day was attended by James Ogwang, director of National Crops Resources Research Institute (NaCRRI) at Namulonge; Godfrey Asea, maize breeder and head of the Cereals Program; Pearl and NASECO seed companies representatives; Sammy Waruingi from BASF; and CIMMYT maize breeder Dan Makumbi and research assistant Edna Mageto. Ogwang urged the farmers to plant only certified seed and move beyond border issues to work together in Striga management. Asea thanked the government and farmers for their support in the fight against Striga. He said the farmers had become good project ambassadors.
"Striga is a big challenge to maize production," said Eva Musenero, District Production Officer, thanking the partners for the efforts towards eliminating the pest. She also urged farmers to embrace new weed management technologies. The farmers who participated in the field day were keen to know how they could access the best performing varieties.