Karnal bunt is a wheat disease that can make grain too unpalatable for use in flour. It is quarantined by many countries, and can therefore seriously constrain global wheat seed exchange—and even movement of wheat within countries. During 17-18 September 2011 a training course for seed professionals on the management of Karnal bunt was held in Afghanistan at the National Seed Secretariat facility, Badam Bagh, Kabul, with the aim of ensuring that no infected seed lots pass through the certification process so avoiding the spread of the disease within the country. It was jointly organized between CIMMYT, the International Center for Agricultural Research in the Dry Areas (ICARDA), Afghanistan's Plant Protection and Quarantine Department (PPQD) of the Ministry of Agriculture, Irrigation and Livestock (MAIL), and the Food and Agriculture Organization of the United Nations (FAO).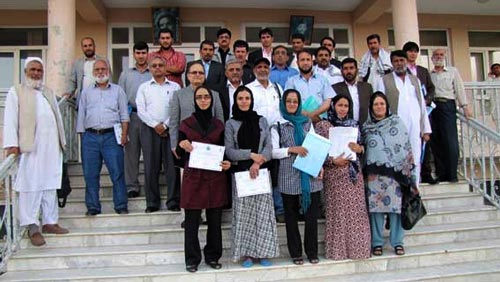 Thirty-three participants attended from the Agricultural Research Institute of Afghanistan (ARIA), PPQD, FAO, and other organizations involved in seed production and certification. Their enthusiasm was reflected in their many questions as they learned about the disease's history, epidemiology, visual identification, laboratory identification, and management through lectures and practical sessions. Mir Amanulldin Haidari, PPQD Director, who opened the event, said that he found it very useful for his department's work. The training sessions were led by Ramesh Chand, Professor of Plant Pathology at Banaras Hindu University, India. Arun Joshi, CIMMYT wheat breeder, Rajiv Sharma, CIMMYT liaison officer for Afghanistan, and Javed Rizvi, Afghanistan country manager for ICARDA, also took part.
Karnal bunt has long been present in Afghanistan, with favorable climatic conditions promoting occasional outbreaks, and a recent survey by ARIA indicated that several popular wheat varieties are susceptible to the disease. It is particularly prevalent in the eastern region bordering Pakistan, which has emerged in recent years as an important seed-producing area within Afghanistan. This has raised the concern that a disease outbreak in this region could easily spread to other parts of the country. Thanks to this collaborative training event, the national seed system is now ready to tackle the issue of Karnal bunt and ensure a healthy future for Afghanistan's wheat seed.