The United Kingdom's Department for International Development (DFID) has won Best Technological Breakthrough at the 2012 UK Climate Week Awards for its support to the Drought Tolerant Maize for Africa (DTMA) project. The awards were held in London on 12 March 2012 to celebrate the UK's most effective and ambitious organizations, communities, and individuals and their efforts to combat climate change.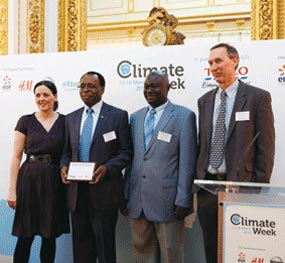 DTMA has been responsible for the development and dissemination of 34 new drought-tolerant maize varieties to farmers in 13 project countries—Angola, Benin, Ethiopia, Ghana, Kenya, Malawi, Mali, Mozambique, Nigeria, Tanzania, Uganda, Zambia, and Zimbabwe—between 2007 and 2011. An estimated two million smallholder farmers are already using the drought-tolerant maize varieties and have obtained higher yields, improved food security, and increased incomes.
Drought-tolerant varieties are invaluable on a continent where maize is the staple crop for over 300 million people, and nearly always relies on rainwater alone. The DTMA varieties, produced by conventional breeding, provide farmers with better yields than leading commercial varieties under moderate drought conditions, while also giving outstanding harvests when rains are good. DTMA works with a diverse network of partners to develop, market, and distribute seed, including private companies, publicly funded agricultural research and extension systems, ministries of agriculture, nongovernmental organizations, and community-based seed producers.
Jointly implemented by CIMMYT and the International Institute for Tropical Agriculture (IITA), the DTMA project is presently funded by the Bill & Melinda Gates Foundation (BMGF) and is also receiving complementary grants from the Howard G. Buffett Foundation (HGBF) and the United States Agency for International Development (USAID).
"DFID has been a highly-valued and reliable, top-ten core contributor to CIMMYT's work," said DTMA project leader Wilfred Mwangi. In addition, the efforts of DTMA build on long-term support from the Swiss Agency for Development Cooperation (SDC), the German Federal Ministry for Economic Cooperation and Development (BMZ), the International Fund for Agricultural Development (IFAD), the Rockefeller Foundation, USAID, the United Nations Development Program (UNDP), and the Eiselen-Foundation.