The HarvestPlus-China (HPC) Annual Meeting for 2011 was held in Lijiang, Yunnan Province, China, during 27-30 September 2011, with 66 national and international scientists participating, including Howarth Bouis (HarvestPlus Director), Markus Palenberg (HP Program Strategy Advisor), and Jeroen Bordewijk (HP Program Advisory Committee Member). Prior to the meeting, many of the participants attended a Maize Field Day in Yun County, organized by the HPC high provitamin A maize team, Fan Xingming, Yunnan Academy of Agricultural Sciences (YAAS), and Li Jiansheng, China Agricultural University (CAU), together with members of the Lincang Agricultural Technical Extension Center office in Yun Xian.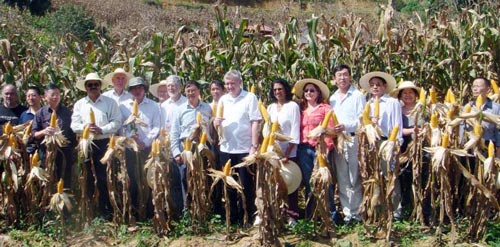 Two YAAS-developed hybrids, Yunrui 8 and YR506, were the focus of the field day. Yunrui 8 is a high quality maize hybrid developed using CIMMYT germplasm and an elite YAAS inbred. It was released in Yunnan in 2005, and was recommended by the Ministry of Agriculture for use in southern China in 2010. Uptake by farmers in the region has been rapid, and the hybrid has been planted on a cumulative area of 0.5 million ha between 2005-2011; providing the farmers with a USD 118 million net increase in income.
The village of Mangzhou in Yun County started growing Yunrui 8 in 2005 and during the field day it could be seen extensively planted throughout the valley and surrounding hills, with high acceptance by the local farmers and those in the neighboring villages. Due to its high yield, resistance to foliar diseases and ear rot, quality grain traits, and storability, the hybrid meets the needs of the farmers who market the grain, as well as using it for animal feed. A higher oil content and improved lysine levels means that farmers can also raise their animals to market standards quicker than with normal maize.
YR506 is finishing its second year of regional testing and offers farmers the first high yielding, provitamin A hybrid adapted to their needs. It is derived from national program germplasm and high provitamin A germplasm from HarvestPlus collaborations with the US.
Farmers attending the field day described the excellent performance of Yunrui 8, and how it has had a positive impact on their livelihoods. Luo Yaowu, Director of the Yun County Agricultural Bureau, expressed the importance of these two nutritionally enriched hybrids, and his appreciation of the efforts of HarvestPlus- China in developing them to improve the livelihoods of local farmers. Special thanks were given to all members of the organizing team for the success of the field day, and to Director Shi Zehai and his team from the Agricultural Technical Extension Center.