By Brenna Goth/CIMMYT
Read the Storify recap here.
Today's sessions at the Borlaug Summit on Wheat for Food Security recognized Dr. Norman Borlaug's legacy and the roles of wheat and wheat farmers around the world in the fight for global food security.
Participants packed the auditorium at the Universidad de La Salle Noreste in Ciudad Obregón, Sonora, Mexico, for a day focusing on the successes and shortcomings of the Green Revolution and the challenges in producing enough food for today's  world and in the future. Keynote speakers included Sir Gordon Conway, professor at Imperial College London, and Howard G. Buffett, chairman and CEO of the Howard G. Buffett Foundation.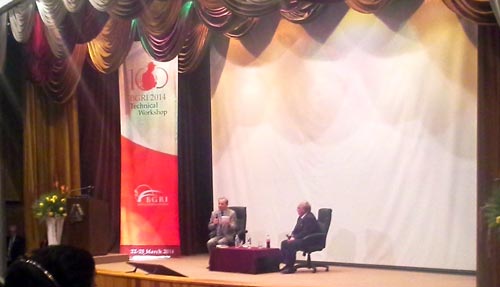 Speakers addressed past and current successes in agricultural research while stressing that problems persist.
"We live in a world of chronic crises," Conway said during his talk on lessons learned from the Green Revolution, adding that, oftentimes, when one crisis is solved, another arises.
Not all of the poor benefitted from the Green Revolution; it passed by much of Africa and it led to increased reliance on synthetic fertilizers. At the same time, rising food prices, a need to increase food production, rising meat consumption and stressors including climate change challenge food security.
Sustainable intensification – through ecological and genetic approaches – can help, Conway said, as well as making sure people get the inputs they need.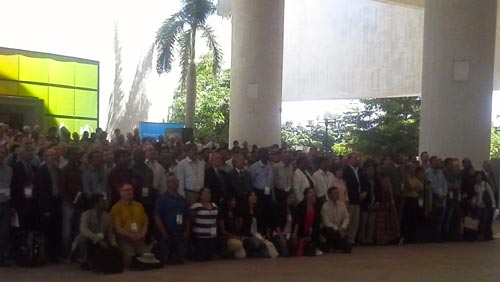 "We've got to intensify production," he said. "We've got to get yields up."
Buffett also stressed sustainability with his call for a "Brown Revolution," or a focus on saving soil and the world's ecosystem. Much of his philanthropic work focuses on farming and agriculture.
Farming is the most important profession in the world, Buffett said, yet he has met farmers who cannot feed their families.
"I said 'This is wrong,'" Buffett commented. "We have to figure out how to do this better."
He called on world leaders to support agriculture and said he remains a "pessimistic optimist" in facing global challenges.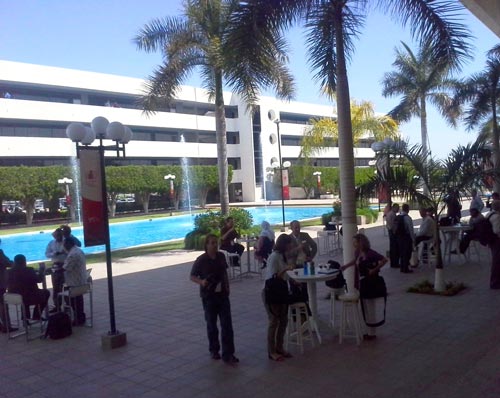 Dr. Borlaug took action when witnessing these challenges and didn't back down to opposition, according to Summit speakers. Several presentations focused on their personal relationships with Dr. Borlaug and the impact he made on wheat research.
M.S. Swaminathan, known as the father of the Green Revolution in India, spoke about Dr. Borlaug's impact on India through a video message. In another video message, Jeanie Borlaug-Laube, Dr. Borlaug's daughter, said her father worked for everything he had and would tell young people to continue the fight to feed the world. Wheat breeder Sanjaya Rajaram, who started his career with Dr. Borlaug, recounted early mornings in the field and Dr. Borlaug's kindness to Mexican staff.
Though Dr. Borlaug focused much of his career on fighting wheat stem rust, new factors threaten wheat production. Hans Braun, director of CIMMYT's Global Wheat Program, spoke about the need to breed varieties resistant to climate change and revisit triticale, a crop full of potential and Dr. Borlaug's "unfinished business."
Scientists today can learn from Dr. Borlaug's communication skills, said Ronnie Coffman, professor at Cornell University and chair of the Borlaug Global Rust Initiative. Researchers must advocate for biotechnology to fight hunger, he said.
Regarding Dr. Borlaug's response to opposition to the Green Revolution, Coffman said, "Borlaug did not waver before the naysayers and policymakers. We must draw on his conviction and share it with the world."
The day ended with policy recommendations and a panel discussion on what Dr. Borlaug might do today. The Summit continues tomorrow with a focus on why wheat matters to the world. Follow @CIMMYT on Twitter from 8:30 a.m. to 5 p.m. MST for live updates.