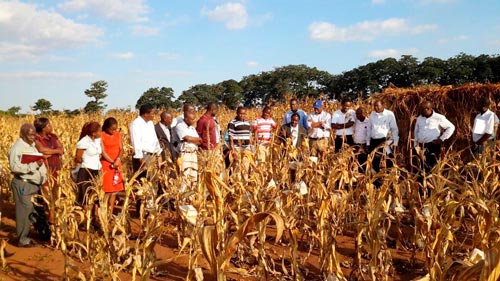 CIMMYT designed and gave an integrated maize seed systems training course for 32 seed technicians from the public and private sectors on 18-22 May at Chitedze Agricultural Research Station. The course is part of CIMMYT's capacity building initiative to enhance maize seed production in Malawi, established after the successful launch of USAID Feed the Future's Malawi Improved Seed Systems and Technologies project on 6 May 2015 in Liwonde, Machinga District.
Trainees gained a basic understanding of maize anatomy and physiology, hybrids, improved open-pollinated varieties, seed certification standards and testing, regulatory procedures and seed business management. They also learned to practice conservation agriculture, which was appreciated as an innovative practice that conserves soil and produces higher maize yields. It also cuts back on the time and labor that farmers, particularly small-scale farmers, dedicate to tedious practices such as tilling.
Participants tour Seed-Co Malawi's seed processing facility. Photo: Kennedy Lweya/CIMMYT
"The involvement of women in all aspects of our seed business is not only a must-do activity but a goal that makes perfect business sense," said Innocent Jumbe, Production Manager at Peacock Seeds. Given that over 52% of Malawi's population are women, most of them small-scale maize producers, the need for gender inclusion at all stages of the maize value chain was an important take-home message for participants.
The highlight of the course was a tour of Seed-Co Malawi's premier seed facility in Kanengo. Participants were impressed by the company's state-of-the-art facility, including its sales offices and seed handling, processing and packaging plant. This is evidence not only that Malawi's seed industry is ripe with investment opportunities but also that the country has an investor-friendly policy and regulatory environment.
"This ultra-modern seed facility is a testament to Seed-Co Malawi's long- term commitment to offer value to our shareholders and quality seed to Malawi's farming community and beyond," said Derrings Phiri, Seed-Co Malawi's Managing Director.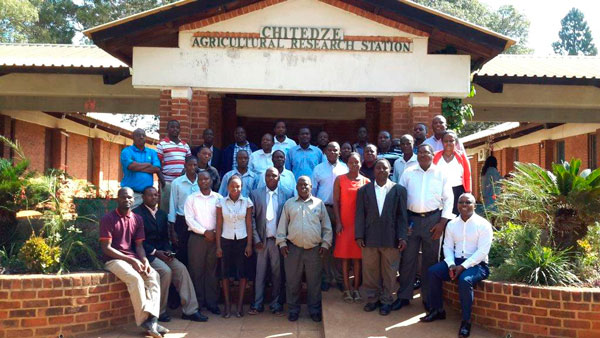 Course participants included representatives from the Maize Program of the Government's Department of Agricultural Research and Services, agro-dealers and seed companies. Patrick Okori, the project's Acting Chief of Party, and Carol Jenkins, Feed the Future USAID Project Manager, congratulated participants on successfully completing the training course and on their commitment to implementing what they learned in order to deliver high quality and affordable improved seed that will not only bring value to market players but also enhance the security and incomes of Malawi's small-scale farmers.