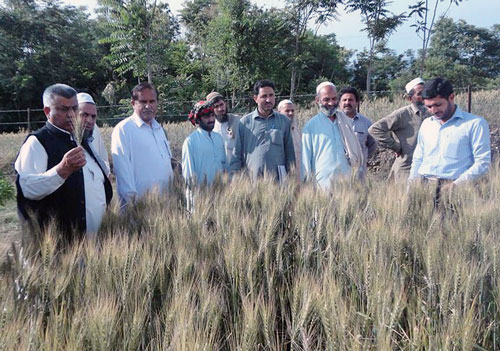 The Wheat Productivity Enhancement Program (WPEP), led by CIMMYT and funded by the United States Department of Agriculture (USDA), held technical training sessions on wheat seed production from March to May 2015 for farmer enterprise groups (FEGs) in Pakistan's Khyber Pakhtunkhwa (KP) Province. The training was held in collaboration with the Outreach Programme of the Agriculture Research System in KP Province, which formed the FEGs, each comprising 30-35 persons including farmers, seed dealers and seed company representatives.
Wheat ranks first among the food crops of KP Province and is grown mainly on a rainfed area covering 0.729 to 0.776 million hectares. Compared to the rest of Pakistan, KP Province has low yields due to water scarcity, weak extension services and low adoption of recommended technologies, including improved varieties. The public seed sector produces only 5-8 percent of all wheat seed planted in the province, leaving a large gap for private sector investment in wheat seed production and improvement.
More than 92 percent of farmers plant their own wheat seed, which is of inferior quality. Farmers need to be trained to produce quality seed to plant in their own fields and share with neighboring farmers. In response, WPEP has engaged all wheat breeders at KP partner institutes and seed regulatory agencies to enhance production of early generation seed of both advanced lines and released varieties. WPEP also carries out seed demonstrations and variety popularization trials in farmers' fields to create awareness about new varieties and production technologies.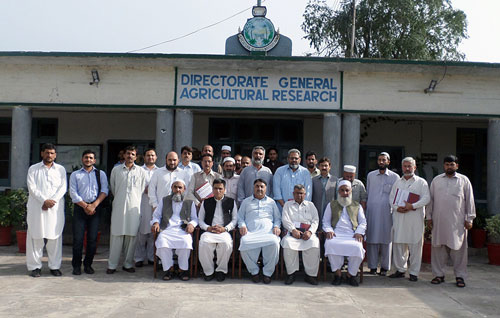 Five training courses were held at the Cereal Crops Research Institute (CCRI), Pirsabak, the Agriculture Research Stations at Buner and Mansehra, and Bamkhail-Swabi and Tarnab-Peshawar Research Institutes. The training enabled FEGs to learn of quality seed and update their knowledge on seed production, seed laws, seed storage, the most recent high-yielding varieties, available seed sources and varietal identification. They also learned about wheat stem rust disease and rust resistant varieties that have been planted in KP by public and private seed companies and also on farmers' fields. Other subjects included varietal testing and evaluation, the release, registration and approval system, variety maintenance, and production of pre-basic and basic certified seed.
Trained FEGs are expected to become registered private or public sector seed growers in the future. Building the capacity of FEGs will strengthen farming communities, improve farmers' incomes and increase wheat productivity throughout the KP region.