CIMMYT hosted the 6th instalment of its online seminar series — Catalysts of Change: Women Leaders in Science — featuring Diane Holdorf, executive vice president and a member of the Senior Management Team at the World Business Council for Sustainable Development (WBCSD).
Drawing on varied experiences from a diverse career in sustainability, Holdorf used her talk to emphasize the importance of saying 'yes' in the face of big changes, identifying what energizes you, being present at home and at work, and supporting others to succeed with their objectives.
Translating science
As the daughter of a geologist, Holdorf spent much of her childhood outside looking at rocks, an experience she credits with giving her an affinity for nature. "I found it was a way that really connected me and grounded me in my surroundings. What are we looking at? What are we looking for? What's in the patterns and shapes of what we see?"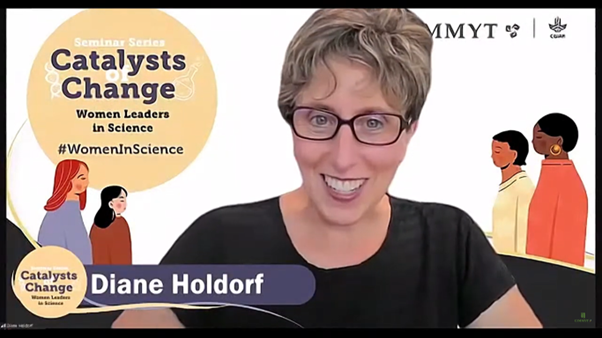 After deciding that she didn't want to go into science, Holdorf opted to study public communications at university and was promptly recruited by an advertising agency upon graduating. "It was the first time that something big came up where I just said: 'Yes. Yes, I'll try it. Why not?' And that theme of saying yes in the face of these big changes is one that's proven to be incredibly helpful."
However, having moved halfway across the country for the job, Holdorf quickly found that she disliked the role. "It was a really important lesson in learning what I didn't value and what I didn't want to do," she said. "That came really early in my career, the idea that I needed to be way clearer in my convictions. What matters to me? What do I want to be working in? And that led me to go into environmental consulting."
"Maybe not an obvious path, but my dad had been an environmental consultant," she explained. "So, in some ways I'd fallen back into something that was a bit familiar, but that I could make my own."
In this new role, Holdorf found she could put her communications skills to use in a way she found energizing, translating scientific and technical solutions into words that clients could understand or that project managers could frame and create workplans around. "Without realizing it, it grew into this role of being the translator between 'what does the science and engineering tell us' and 'what are the business solutions that we need to use that information to solve for.'"
"I've learned that what really drives me and what gives me the most energy is working together with people to create the biggest impact and change we possibly can," she explained. "What motivates me the most is trying to drive action on these extremely urgent challenges of climate, nature, equity, and in our food systems."
Helping others succeed
"Leading with clear objectives and clear boundaries is really important," said Holdorf. "And I don't mean that in a rigid way. I mean knowing what I can accept when engaging with others, and what I will not go past. What areas of acceptance are needed for my integrity in a role."
She noted that one of the things that has been particularly useful throughout her career — especially during the first 15 years, when she was often the only woman in the room — are the male colleagues who stood up for her, coached her and provided feedback on her work.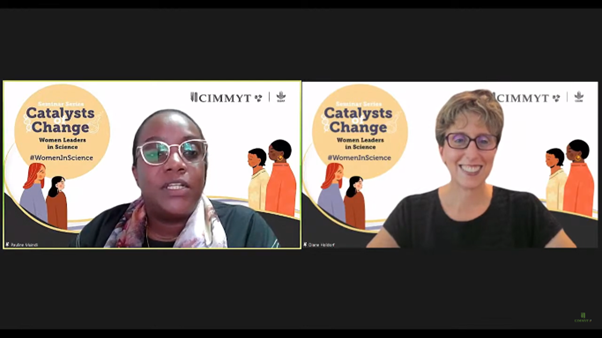 "And I listened hard," she explained. "I asked for that feedback and really worked to incorporate it because I could tell that what they were telling me was meant to help make my role easier. That was a hugely valuable lesson because it taught me that if it was that important for me, it meant that I could in fact play that same role for others."
As a result, she now encourages not only learning how to seek out mentorship, but also reflecting at every stage of a career, identifying opportunities to mentor others, and creating a stream of development and gift-giving.
"How do we ensure that our work helps others to succeed?" she asked. "Because often when we're working in these spaces, we can only achieve our objectives by leading with and influencing others. It's not very often that we have full control. But learning how our work can help others deliver on the goals that they've been tasked with actually creates totally different types of breakthroughs."
Holdorf's presentation was followed by a Q&A session led by Pauline Muindi, research support specialist at CIMMYT.