By Andrew McDonald/CIMMYT
A former CIMMYT scientist recently returned to South Asia to share his expertise in conservation agriculture.
Peter Hobbs worked for CIMMYT as a regional agronomist from 1988 to 2002 and co-led the creation and management of the Rice-Wheat Consortium (RWC) for the Indo-Gangetic Plains. Hobbs now works at Cornell University, most recently as associate director of International Programs. The Cereal Systems Initiative for South Asia (CSISA) project invited Hobbs to Bihar, eastern Uttar Pradesh and the Terai region of Nepal from 18 to 24 January, where he offered perspectives on South Asia's progress in the last decade in ricewheat systems research, and heard comments from colleagues.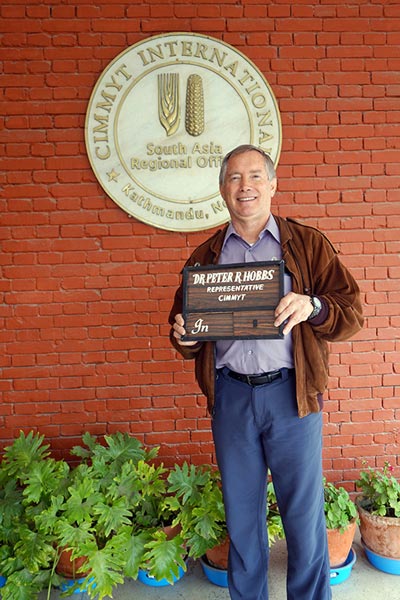 "Peter Hobbs is the pioneer of zero tillage wheat in South Asia – one of CIMMYT's best contributions in this region after Norman Borlaug," said R.K. Malik, a member of CSISA's senior management team who accompanied Hobbs through India. Malik was a core member of the RWC during Hobb's time and a champion of zero tillage (ZT) for sowing wheat in rice-wheat rotations. Malik recalled CIMMYT's early efforts to introduce conservation agriculture in India. Hobbs was integral, bringing the first ZT machine to India from New Zealand in 1989 -the Aitchison drill which was later modified, improved and widely adopted in India.
He said that Hobbs applied innovative and multi-disciplinary approaches that united the efforts of the national research programs with an array of public and private stakeholders. "This technology was dependent on identifying champions in the areas where we worked to engage innovative farmers, energize the scientists involved and link them with local machinery manufacturers and farmers, Hobbs said. Hobbs shared observations on his travels through the eastern Indo-Gangetic Plains. "After seeing the fields in Bihar and eastern Uttar Pradesh, there is no question that ZT and reduced-tillage technologies do work and do provide benefits as long as they are done properly and the enabling factors are in place," he said.
He stressed that farmers must have access to machinery, inputs and related expertise, perhaps through a network of service providers. "That means we have to look at the way research can help farmers – having a more participatory approach and providing incentives to scientists and extension workers based on accountability and performance is critical for success," Hobbs stated. "The RWC and legacy of pioneering scientists like Peter Hobbs, Raj Gupta and R.K. Malik established the foundation for CIMMYT's ongoing work and impact with farmers in the region through projects like CSISA," said Andrew McDonald, CSISA project leader. "It was a true pleasure to have Peter's insights into where we are succeeding and where we can do better. South Asia is changing quickly, but the core lessons from where we've come still resonate."
Hobbs is optimistic about the potential of these technologies in Bihar and eastern Uttar Pradesh. "It was very rewarding to see that interest in resource- conserving technologies has grown and continues to thrive in this region, and specifically in the eastern Indo-Gangetic Plains, where there is great potential to benefit farmers and also contribute to food security in a more environmentally friendly way."