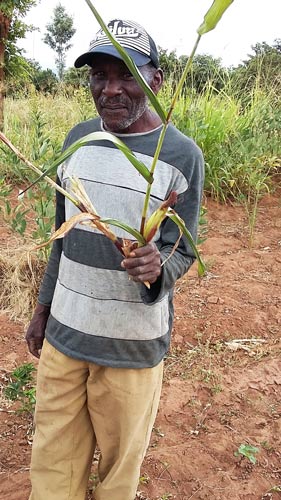 Peter Masaku walks through his farm with a far-away nostalgic look as if reminiscing about some distant good old days. His maize fields are strewn with rich residue, which to the eye indicates a possible bountiful harvest. That is until Peter, a father of six, tells of a huge loss in yields he and many other farmers in a village called Kambi Mawe, a Kiswahili name, which loosely translates into 'Rocky Camp', in sun-scorched eastern Kenya's Makueni County have suffered in the just-ended long rains. "I harvested maize just enough to fill one wheel-barrow from my one-acre farm," Peter laments, as he leads the way to show his meagre yield drying outside his store. "This maize cannot even feed my family for a month," he adds.
A few meters away, another farmer, Jane Ndawa, observes that Kambi Mawe has not received a good harvest for two consecutive years due to very low and poorly distributed rains. However, she is yet to meet a single household in her village that does not eat maize in one form or another. "And when things are bad like this season, we have to buy maize and maize flour for our daily food," asserts Jane. Farmers normally take some of their maize to the local mill to be processed into flour for home use. Jane adds, "Any help farmers can get to harvest more maize is most welcome, since we will keep planting it regardless of the yield because we need maize."
Disturbingly, the trouble faced by these two farmers is all too common in most drought-prone areas in Kenya. However, the bigger problem is that farmers are not benefiting from improved drought-tolerant (DT) maize varieties that have been developed – and are in the market – for such ecological areas to help them get better yields in a bid to beat drought.
Like Peter, most farmers plant local varieties obtained from fellow farmers or recycled from saved seeds that are highly susceptible to drought. It is probable that the general lack of awareness about the improved DT varieties in the market is probably one of the biggest hindrances to maize production.
Through the Drought Tolerant Maize for Africa (DTMA) Project, the International Maize and Wheat Improvement Center (CIMMYT, by its Spanish acronym) and its partners have released 14 high-yielding drought-tolerant maize varieties in Kenya alone. These include hybrids that yield on average 49 percent more grain than open pollinated varieties on-farm, and 15 percent more than current commercial hybrids. However, these varieties are not reaching farmers in need. "It is not enough to just develop improved varieties, we have to go beyond this and work to promote and distribute widely the released varieties to ensure farmers know, access and cultivate the seeds," says Tsedeke Abate, DTMA Project Leader.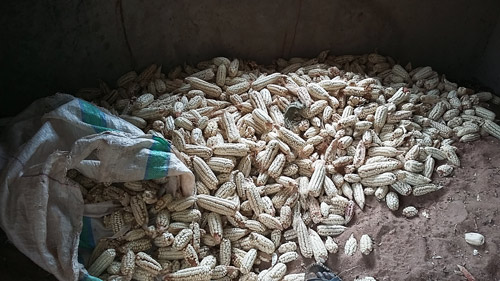 Ngila Kimotho is the Managing Director of Dryland Seed Limited, – a major supplier of DT seeds in the eastern region. Mr Kimotho agrees that farmers are yet to fully adopt the available varieties stocked by the company. "It takes time to wean farmers off the local seeds they are used to, despite poor yields. Though some farmers are aware of the existence of the improved DT varieties, they are yet to start planting them, and one reason they give for this is that the improved seeds are too expensive," observes Mr Kimotho.
CIMMYT's new project, Drought Tolerant Maize for Africa Seed Scaling (DTMASS), is working with seed companies in seven target countries across eastern and southern Africa to increase awareness on DT maize varieties, and thereby increase both seed supply and demand by reaching as many farmers as possible. "CIMMYT has developed and tested excellent DT varieties over the last decade, but the seed alone is not enough. Our goal now is to get production up and running through local seed companies, raise awareness among farmers and help them find and afford these new seeds," says Kate Fehlenberg, DTMASS Project Manager.
BMI Research, a UK-based agency that provides global markets analyses, estimates that Kenya's maize production in 2014–2015 will be 2.9 million metric tonnes, while consumption is expected to be 3.8 million tonnes. Consequently, the expected demand for imports is 900,000 tonnes. These grim statistics will most likely remain static in the coming years if concerted efforts are not made to sensitize farmers and increase adoption of the DT maize varieties in drought-prone regions.
Such efforts will change the lot and lives of farmers such as Jane and Peter, who represent a large proportion of farmers in Kenya's drylands, which are a large swathe of the country's farmlands.