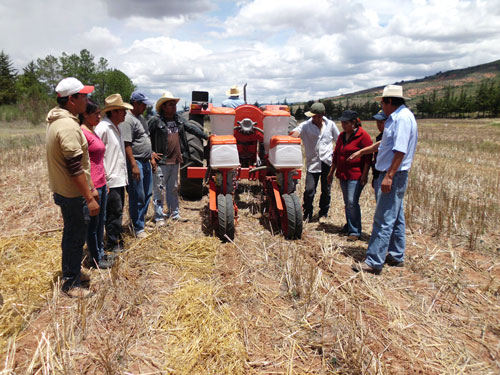 The creation, development and strengthening of farmers' and technicians' capacities are a pillar of the MasAgro strategy. For this reason, besides investing in research and technological development, SAGARPA and CIMMYT are also investing in building the capacities of agents of change to foster testing and implementation of new technologies with farmers. To this end, as part of the MasAgro Productor (Take It to the Farmer) extension strategy, in 2013, they set up a network of trainers responsible for detecting areas of opportunity for the technicians they supervise and designing a training plan to develop their technical and social skills, which will enable them to innovate together with farmers.
Thanks to this information and their efforts, a book titled Options Available for Implementing MasAgro Technologies has been published which analyzes the options available for implementing sustainable agricultural practices and technologies in 23 Mexican entities where MasAgro instructors have supported, mentored, followed up and evaluated the agents of change who have provided technical backup to farmers involved in this strategy.
This systems focus of agricultural innovation fosters interaction among different actors with the purpose of developing new technologies, better practices, new processes and new ways of organizing and managing. This in turn promotes learning and sets aside the old innovation paradigm––which considers innovation to be the result solely of scientific research and technological development––and regards innovation as a collective event for which everyone is responsible.
This option includes the hubs'[i] physical infrastructure and technological tools, agronomic management solutions and the human capital that has developed within the framework of MasAgro's extension activities. The book also talks about various constraints and the potential for implementing the technologies promoted by MasAgro in different states of Mexico. This information is organized into five regions based on the distribution of MasAgro trainers: North (Chihuahua, Durango, San Luis Potosí and Zacatecas), Center (Estado de México, Guerrero, Hidalgo and Morelos) and West (Aguascalientes, Colima, Guanajuato, Jalisco, Michoacán and Querétaro).
This document will undoubtedly be useful to farmers, technicians, researchers, decision makers, input suppliers, development organizations, traders and other actors involved in MasAgro's innovation network.
Consult the book at: http://conservacion.cimmyt.org/index.php/es/component/docman/doc_view/1618-libro-de-oferta-tecnologica-masagro
[i] A hub is an agricultural innovation node and a model of agricultural extension where farmers interact with technicians and technicians interact with researchers. These innovation nodes usually have similar agroecological conditions for establishing production systems where different technologies promoted by the MasAgro program are developed, disseminated, adapted and improved (for more information, go to http://conservacion.cimmyt.org).
With information from MasAgro