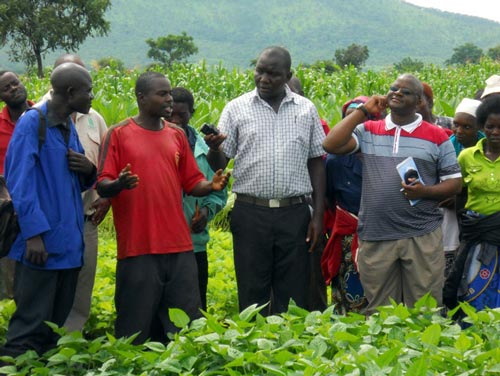 In rural areas surrounding Chipata in eastern Zambia, tobacco, cotton, and maize seem to dominate the agricultural landscape. If you look closer, you will also see smaller fields with groundnuts, cowpeas, soybeans, and sunflowers. But there is yet another dimension of diversity: the different growth stages and (inadequate) fertilization levels of the crops have resulted in a patchwork of yellow to deep green fields of many sizes and shapes, with various degrees of weed infestation. In this smallholder farming area with an average annual rainfall of more than 1,000 mm, it is neither easy to stay ahead of the weeds on all fields, nor to buy enough fertilizer for a healthy crop.
The SIMLEZA (Sustainable Intensification of Maize- Legume Systems Eastern Province of Zambia) project implemented by CIMMYT and partners seeks to address production and sustainability constraints through on-farm testing and demonstration of improved maize and legume varieties (soybeans and cowpeas) and agronomic practices that build on conservation agriculture (CA) principles. CA addresses the high labor demand of local agriculture. It can drastically reduce smallholder farmers' workload at the beginning of the season, replacing hand-made ridge-and-furrows with direct seeding on the flat with a pointed stick (dibble-stick) and herbicide use for weed control. As a SIMLEZA demonstration farmer, who had been given the tool and herbicides for testing, exclaimed: "[up until now] I have been punishing myself!"
The second major issue – the need for higher fertilizer inputs – is more difficult to resolve. Zambia's fertilizer subsidy program has increased fertilizer access for poor rural households, but the scheme provides only two bags at reduced prices and is thus insufficient to cover farmers' total land area. SIMLEZA's focus on improving intercropping and crop rotation with legumes seeks to decrease farmers' reliance on cash-demanding fertilizers. Nitrogen fixed by legumes benefits the following year's crop on that plot and reduces the need for expensive mineral fertilizers. But farmers will have to increase their land areas dedicated to legumes, if this is to really work at farm scale. The good news is that a short group discussion in the Khokwe community revealed farmers' interest in doing just that.
When asked what the best crops for making money are, cotton and tobacco appeared to be the least popular. The simple explanation for the apparent contradiction between the large area dedicated to tobacco and farmers' dislike of it was: "One cannot eat tobacco!" While legumes such as groundnuts, common beans, and soya topped the list of favorite cash crops, the volumes traded are small and do not reach the urban market of Chipata. In Chipata, farmers complain, buyers are few and prices low, despite the export demand for legumes. Thus, dedicating land to tobacco is the result of late payments to farmers and decreasing prices of legumes in the past years. Increasing smallholder farmers' legume production and simultaneously linking them to more distant and profitable markets is one of the major challenges in the years to come.
In Malawi, a stone's throw away, this shift towards increased legume production is already happening. The agricultural landscape has far less tobacco than before, as legumes such as soybeans and groundnuts are increasingly replacing it. Dwindling prices for tobacco and free provision of seeds by government have undoubtedly stimulated poor farmers' uptake of these legumes and boosted volumes traded. Together with its partners, Total LandCare, the Ministry of Agriculture and Livestock, and the Zambia Agriculture Research Institute (ZARI), SIMLEZA aims to contribute to a similar productivity-enhancing change in the agricultural landscape of Zambia.