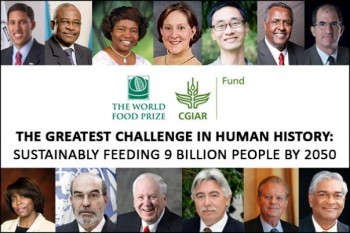 By Sanjaya Rajaram
Wheat breeders involved in the monumental global challenge of ensuring food security for 9.5 billion people by 2050 face enormous hurdles.
Overall, we need to double the amount of food produced to meet demand as population grows steadily from just over 7 billion today, according to the World Bank.
Recent statistics from the U.N. Food and Agriculture Organization indicate that at least 805 million people are estimated to be chronically undernourished.
Wheat, a major staple crop, currently provides 20 percent of the overall daily protein and calories consumed throughout the world. Production must grow 70 percent over the next 35 years, according to the international Wheat Initiative – an achievable goal if annual wheat yields are increased from a current level of below 1 percent to at least 1.7 percent.
Governments and the private sector must more fully support research efforts into developing new wheat varieties or face the risk of further global insecurity related to price instability, hunger riots and related conflict.
Modern-day model
The prevailing vision of the "Father of the Green Revolution" Norman Borlaug, my great friend and mentor who died in 2009 at age 95, provides a sound scientific and humanitarian basis upon which we must build.
Borlaug, with whom I worked at the International Maize and Wheat Improvement Center (CIMMYT), was awarded the Nobel Peace Prize in 1970 because, more than any other single person of his era, he helped to provide bread for a hungry world.
The wheat varieties he developed are credited with saving 1 billion lives with the disease-resistant, high-yield semi-dwarf wheat varieties he developed. Previously, Borlaug had introduced similar innovations throughout Mexico – where CIMMYT is headquartered – leading to the country's self-sufficiency in wheat.
When he accepted the Nobel Peace Prize, he claimed it on behalf of the "army of hunger fighters" with whom he had worked.
"I'm acutely conscious of the fact that I am but one member of that vast army," he said in his Nobel acceptance speech. "I want to share not only the present honor but also the future obligations with all my companions in arms, for the Green Revolution has not yet been won."
Two years after he won the Nobel Peace Prize, Borlaug stepped aside and appointed me head of the CIMMYT wheat breeding program where I spent most of my career fighting alongside other Green Revolutionaries developing resilient wheat varieties, except for the eight years I spent at the International Center for Agricultural Research in the Dry Areas (ICARDA).
Those wheat varieties are now grown on 58 million hectares (143 million acres) worldwide, contributing to the average 700 million metric tons (770 million tons) of wheat produced annually. We estimate these varieties provide wheat to more than 1 billion people a year.
At ICARDA, first as director of the Integrated Gene Management Program, then as special scientific advisor, I also oversaw the promotion of new technologies to help farmers in the Central and West Asia and North Africa (CWANA) region.
We developed wheat improvement strategies to tackle some of the challenges facing wheat in dry areas, including stripe rust disease, which can put wheat crops around the world at risk.
Ensuring results
The challenges we face today are vastly more complex than they were during Borlaug's time, but they are not insurmountable.
Global objectives for food security can most definitely be met. However, we must be able to rely on guaranteed research funding from both the public and private sectors to address the many challenges we face, including decreasing land availability and erratic environmental changes related to climate change.
Researchers are developing wheat varieties tolerant to the drought, heat, extreme wet and cold conditions that impact wheat now and that are anticipated by scientists to grow more extreme as global average temperatures continue to warm and weather patterns become more volatile.
These efforts must be accelerated. Funding must cover training so that we can carry on the Borlaug legacy – if we do not have that capacity we will not be able to keep up with the demand for wheat and famine will be the result.
Combining biotechnology with conventional breeding methodologies can help both smallholder farmers and large corporate farm operations to avert potential disaster, but we need financial backing to conduct trials.
Moreover, we must address such wide-ranging concerns affecting wheat as soil health, disease resilience, seed diversity, water management, micronutrient imbalance and the impact of carbon emissions.
The world must wake up to the costs of these challenges and the price of not meeting them.
Sanjaya Rajaram is the 2014 World Food Prize Laureate for scientific research that led to an increase in world wheat production by more than 180 million metric tons (200 million tons). He worked at the International Maize and Wheat Improvement Center (CIMMYT) for 33 years.
This article originally appeared on the Thomson Reuters Foundation website as part of the 2014 Borlaug Dialogue co-hosted by the World Food Prize Foundation and CGIAR Fund. The op-ed series titled The Greatest Challenge in Human History: Sustainably Feeding 9 Billion People By 2050 highlighted how agricultural research and development are not only tied to food security and nutrition, but that they are also central to achieving many of the forthcoming U.N Sustainable Development Goals (SDGs).