By ML Jat, RS Dadarwal, Tripti Agarwal and Love Kumar Singh/CIMMYT
In the intensively cropped region of northwest India, farmers generally use imbalanced and inappropriate nutrient doses, which leads to low yields, high production costs and low nutrient efficiency. The resulting loss of applied nutrients, particularly nitrogen, creates a large environmental footprint.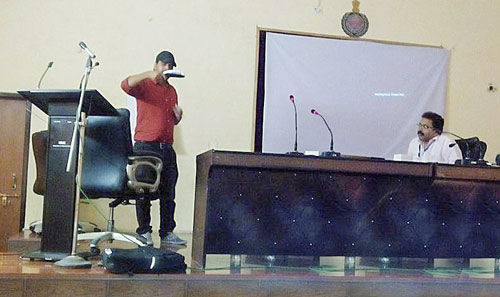 An interactive workshop was held 5-6 June in Haryana State to promote the use of precision nutrient management tools in smallholder production systems. The 175 participants received hands-on training in Nutrient ExpertTM, a software tool that helps determine fertilizer requirements in cereals, and GreenSeekerTM, an optical sensor that measures the Normalized Difference Vegetation Index, an indicator of crop development and health.
To encourage widespread adoption of both technologies, the agriculture departments in the participating districts received them for free. Meanwhile, Haryana's Department of Agriculture has planned more than 1,000 demonstrations of the tools in maize and rice fields during this year's rainy season.
The training was jointly organized by the International Plant Nutrition Institute-South Asia Program, CIMMYT and the Haryana Department of Agriculture, under the umbrella of the CGIAR Research Program on Climate Change, Agriculture and Food Security (CCAFS). Many of the participants were agriculture development officers or extension experts who will use the tools to devise climate-smart management strategies for sustainable development.