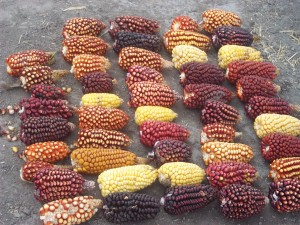 EL BATAN, Mexico (CIMMYT) — Doubled haploid (DH) technology provides important benefits to maize breeding programs by enhancing genetic gains, improving breeding efficiency and offering significant economic advantages.
Unfortunately, this technology is limited by the fact that the R1-nj (Navajo) anthocyanin color marker cannot effectively identify haploids in many crosses where inhibitor genes prevent color expression in the seed. A new study from the MAIZE CGIAR Research Program titled "Development and validation of red root marker-based haploid inducers that effectively complement R1-nj (Navajo) marker-based in vivo haploid identification in maize" states that the Navajo marker caused a high percentage of false positives, especially in varieties with natural purple coloring, due to high anthocyanin content.
To combat this issue, the study recommends the use of triple anthocyanin color markers, in which the red/purple coloration is expressed in seedling roots and leaf sheaths in addition to the Navajo marker on the seed. Researchers found that use of the red root marker improved the accurate identification of haploids, especially in seeds that already have a natural purple color due to high anthocyanin content.
Read more about this research and other recent studies from CIMMYT scientists below.